Open House Etiquette 101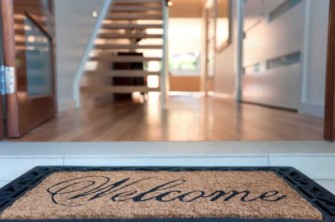 There's more that goes into buying a home for the first time besides shopping online for mortgage rates. To find the perfect home, you have to log off of the computer, get in your car and see homes for yourself. One way to do that is visiting open houses.  First-time homebuyers might naturally be reluctant to attend an open house held by a real estate agent. After all, no one likes to be hassled by a pushy salesperson. But in fact, open houses can be a good opportunity. Instead of calling around to find a real estate agent you like, you can go out on your own, see some of the homes that are for sale and meet the agents in person.  The best way to find out about open houses is to search real estate listing websites. You can also get this information from real estate websites, newspaper ads or by driving around your target neighborhood any weekend. If you're heading to your first open house this weekend, arrive with a plan in mind.
Sign In
Even though the house is open to the public, you'll still probably have to give the agent your name and contact information to be allowed inside.  Agents have a responsibility to know who was in the house for the security of the seller's property.  Some agents use a guest book or sheet of paper as a sign-in system. Others,use an electronic device.
Do's and Dont's
An open house is your time to look at the property.  That means it's fine to walk into all the rooms, open closets or even take a seat and stay a while if you're genuinely interested.  It's not OK to snoop.  Sellers are advised to put away valuables and medications. You don't want to be opening their furnishings, wardrobe or drawers. Kitchen cabinets, closets — it's expected that people will look there. Nor is it OK to let your children smear cookie on the walls or touch toys that belong to the seller's children.  If you want to take pictures, you should get permission from the agent first.  And don't block a neighbor's driveway when you park your car. A super-busy open house can get a little annoying for the neighbors.Those people could be your future neighbors, so you want to be respectful.  Sometimes houses that were scheduled to be open aren't, English adds. That happens because some houses sell quickly and the information posted online isn't always current.
What to Ask
A good agent should be knowledgeable about much more than the color of carpeting.
Here are some questions you should ask at an open house:
Have the sellers received any offers?
How well is this home priced?
What are the comps —  prices of similar homes recently sold in the area?
What are the schools?
Are there any disclosures?
What other for-sale homes should I see besides this one?
Who do you recommend for a lender?
A Tip for Homeowners
With prescription-drug abuse on the rise, real estate agents have reported that drug abusers are unfortunately posing as potential homebuyers and targeting open houses as sources of prescription medication. Homeowners are advised to collect their prescription medications in plastic bags and take it with them before their open house begins.
From Realtor.com
Sorry we are experiencing system issues. Please try again.