7 Presidential Pooches that Called the White House Home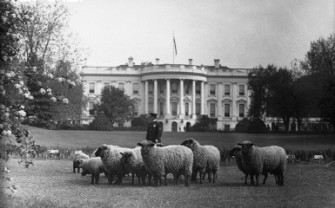 The early days in the White House, sheep happily called it home.  Pets with Presidents seem to give these powerful heads of our country, a softer, more human side.  Our beloved pets bring out the best in us. Their loyalty knows no bounds, and they never tire of hearing our woes.  Many of us would come home to empty houses if it was not for our "babies".  These 7 presidential pets called the White House home, and brought the same joy to their Masters, former Presidents.
President Barack Obama and Bo and Sunny
Bo, the first family's Portuguese water dog, is at home doing anything from hanging out in the Oval Office with the president, to visiting patients at the Children's National Medical Center, to vacationing with his owners at Martha's Vineyard.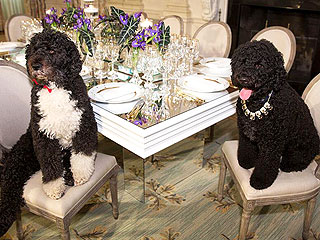 Sunny, whose disposition seems to match her name, has joined Bo at the White House.   We suspect Sunny will follow in Bo's footsteps and keep the president company in the Oval Office, go for walks with the first family after their 6:30 family dinner and even jump up on the first lady's lap from time to time.  The late Senator Edward Kennedy gave Bo to the Obamas in 2009. The breed works well for the family because of their allergies.
President Bill Clinton and Buddy
Although President Bill Clinton grew up with dogs, he served his first term without a canine companion. In December 1997, however, he got a 3-month-old chocolate Labrador Retriever  puppy, and the two became fast friends.  The President named his dog Buddy after his great-uncle Henry "Buddy"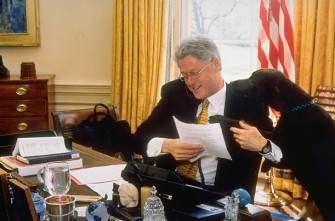 Grisham, who had recently died and whom Clinton often described as having a major influence on his life. Buddy, true to his breed, was gregarious and playful. He accompanied the President in the Oval Office, on walks on the White House grounds, and on trips to Camp David.
President George H.W. Bush and Millie
President Bush's  dog Millie is one of the most famous presidential pets.  A day in her life living with President and Barbara Bush at the White House, included  attending morning briefings and afternoon meetings in the Oval Office combined with short breaks for squirrel hunting.  The president gave Millie a prominent mention during his bid for re-election. "My dog Millie knows more about foreign affairs than these two bozos," Bush said, referring to his opponents Bill Clinton and Al Gore.  Millie was portrayed in several TV shows during the 1990s, including Murphy Brown, Wings and Who's the Boss. She also made a cameo appearance in an episode of The Simpsons.  Millie died of pneumonia in 1997 at age 12.
President Ronald Reagan and Rex
Rex, a King Charles spaniel, came to live with the Reagans when he was 1 year old. Rex often pulled too hard on his leash and would drag the Reagans away from reporters and photographers before anyone could ask the president any questions!
President Gerald Ford and Liberty
Susan Ford surprised her father when she let the pup, whose name she changed from Streaker to Liberty, into the Oval Office for their first meeting. In his memoir, Ford recalled how he got down on all fours to play with the puppy. The pair hit it off right away, and it was Ford himself who often took Liberty for her walks.  One notable incident occurred when Liberty awakened the president early one morning indicating that she needed to go out. Dressed in his bathrobe and slippers, Ford took the dog down on the elevator and outside.  For the return trip, however, the elevator would not work. Because the stairway doors were locked as a security precaution, Ford — accompanied by the golden retriever's barking — had to pound on the walls until Secret Service agents came running to help.
President Lyndon B. Johnson and Yuki
President Lyndon Johnson and his beloved Yuki liked to perform in the Oval Office. Here, the president "sings" with Yuki as the U.S. Ambassador to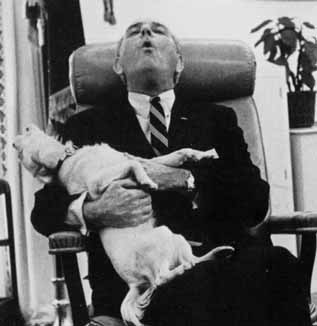 Great Britain, David K.E. Bruce, watches.  Yuki was found at a Texas gas station by Johnson's daughter Luci. He was one of the President's favorite dogs. President Johnson also had two beagles, which he named Him and Her.
President Franklin D. Roosevelt and Fala
Fala, the Scottish Terrier was given to the president by Mrs. Augustus G. Kellog of Westport, Connecticut through FDR's cousin, Margaret "Daisy"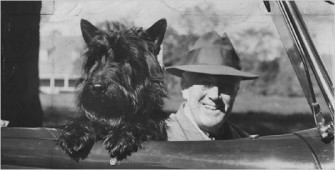 Suckley. At first his name was Big Boy. Franklin renamed him Murray the Outlaw of Falahill, after a Scottish ancestor.  Fala had a bone every morning brought up on the president's breakfast tray. Fala got a full dinner every night. During the day, Fala would beg for food from the White House staff. He was so cute that he was fed all the time and became sick. The staff was asked not to feed him extra food. At night, he slept in a special chair at the foot of the president's bed. Fala traveled with the president on long and short trips by train, car, or boat.  He , of course, met many famous visitors and entertained them with his tricks. He could even curl his lip into a smile for them.