5 Reasons you Need a Real Estate Agent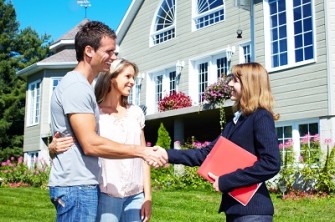 You might think buying or selling on your own will save money, but it could be more costly in the long run.  The proliferation of services that help homebuyers and sellers complete their own real-estate transactions is relatively recent, and it may have you wondering whether using a real-estate agent is becoming a relic of a bygone era. While doing the work yourself can save you the significant commissions that many real-estate agents command, for many, flying solo may not be the way to go — and could end up being more costly than a commission in the long run. Buying or selling a home is a major financial and emotional undertaking. Find out why you shouldn't discard the notion of hiring an agent.
Better Access and More Convenience
A real-estate agent's full-time job is to act as a liaison between buyers and sellers. This means that he or she will have easy access to all other properties listed by other agents and will know what needs to be done to get a deal together. For example, if you are looking to buy a home, a real-estate agent will track down homes that meet your criteria, get in touch with sellers' agents and make appointments for you to view the homes. If you are looking to sell your home yourself, you will have to solicit calls from interested parties, answer questions and make appointments. Keep in mind that potential buyers are likely to move on if you tend to be busy or don't respond quickly enough.
Negotiating is Tricky Business
Many people don't like the idea of doing a real-estate deal through an agent and think that direct negotiation between buyers and sellers is more transparent.  Unfortunately, this isn't always an easy relationship.  Your real-estate agent can convey your concerns to the seller's agent. Acting as a messenger, the agent may be in a better position to negotiate a discount without ruffling the homeowner's feathers. A real-estate agent can also play the "bad guy" in a transaction, preventing the bad blood between a buyer and seller that can kill a deal.  This can put you in a better position to get the house you want. The same is true for the seller, who can benefit from a hard-nosed real-estate agent who will represent his or her interests without turning off potential buyers who want to haggle about the price.
Contracts Can be Hard to Handle
If you decide to buy or sell a home, the offer-to-purchase contract is there to protect you and ensure that you are able to back out of the deal if certain conditions aren't met. For example, if you plan to buy a home with a mortgage but you fail to make financing one of the conditions of the sale — and you aren't approved for the mortgage — you can lose your deposit on the home and could even be sued by the seller for failing to fulfill your end of the contract.  An experienced real-estate agent deals with the same contracts and conditions on a regular basis and is familiar with which conditions should be used, when they can be removed safely and how to use the contract to protect you, whether you're buying or selling your home.
Real Estate Agents Can't Lie
If you are working with a licensed real-estate agent under an agency agreement, such as a conventional, full-service commission agreement in which the agent agrees to represent you, your agent will be bound by law to a fiduciary relationship. In other words, the agent is bound by law to act in his clients' best interest, not his own.  In addition, most real-estate agents rely on referrals and repeat business to build the kind of client base they'll need to survive in the business. This means that doing what's best for their clients should be as important to them as any individual sale.
Not Everyone Can Save Money
Many people eschew using a real-estate agent in order to save money, but keep in mind that it is unlikely that both the buyer and seller will reap the benefits of not having to pay commissions. For example, if you are selling your home on your own, you will price it based on the sale prices of other comparable properties in your area. Many of these properties will be sold with the help of an agent. This means that the seller gets to keep the percentage of the home's sale price that might otherwise be paid to the real-estate agent.
The Bottom Line:
While there are certainly people who are qualified to sell their own homes, taking a quick look at the long list of frequently asked questions on most "for sale by owner" websites suggests the process isn't as simple as many people assume. And when you get into a difficult situation, it can really pay to have a professional on your side.