Re -Purpose your Christmas Tree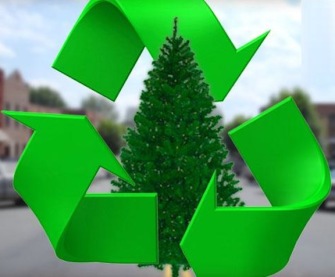 One of the main objections to real Christmas trees is that they are thrown away after the first use. Some people who want a real one choose to buy a living Christmas tree and plant it later. Others purchase an artificial tree to be used for many years, though that still ultimately adds to the landfills along with other problems.  Here are 6 ways you can recycle your Christmas trees once you are ready to take them down.
Find Your Local Recycling Center
Many cities now have recycling services that will pick up your Christmas tree or provide drop-off locations. The tree may be used by local organizations for the other ways suggested here. You can find a location near you by checking Earth911's recycling database.
Make Your Own Mulch
If you have access to a wood chipper, you can make your own garden mulch. Use a saw to cut the Christmas tree into smaller pieces to fit into the chipper. The wood chips can be used around your plants, in your compost bin, and for garden paths.  Mulch is very beneficial in the garden. It can help regulate soil temperatures and protect plants from colder temperatures. It helps reduce water loss. Mulch can also aid in keeping weeds away from your plants.
Provide a Bird Habitat
If you have the room in your backyard, Christmas trees make excellent bird habitats. Remove all of the decorations. Make sure there is no tinsel or flocking.  You will need to secure the tree by using the stand or stakes and twine. Provide the birds with food by making pine cone bird feeders, using suet holders, and hanging strings of popcorn or fresh fruit.
Create a Fish Habitat
If you have a pond, you can place cut-up pieces of your Christmas tree on the bottom to create places for fish to hide. You can also call your state's Department of Natural Resources to see if they need trees for this purpose.  Remove all decorations before placing it in the water. It is especially important that the tree is free of tinsel, and has not been flocked or treated in any other way. These treatments contain chemicals that can be harmful to fish and other aquatic dwellers.
Help Stop Shoreline Erosion
Christmas trees can be used to help reduce erosion on shorelines of oceans, lakes or rivers. The branches and trunk provide barriers that help lessen the amount of sand washed away by the water. They can also help rebuild areas, especially after hurricanes, by collecting sand deposits that would otherwise be washed away.  Check with the Department of Natural Resources to see if they have a need for your Christmas trees.
Decorate Your House with Wreaths and Garlands
Cut off the branches and use them to make winter wreaths or garlands to decorate your house throughout the season. You can add scented pine cones  to complement the wonderful smell of fresh trees.