Puppy Playtime: Exercising Your Dog in the Winter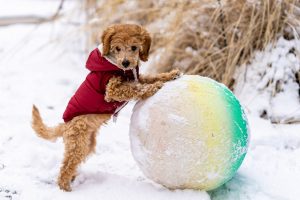 Winter walks can be just as fun as warmer weather walks for puppies and their people. Inside or out, there are plenty fun ways to enjoy playtime with your fur babies!
Dog Sports: Many of them are already very well-known and bring crucial benefits allowing dogs to exercise physically, mentally and learn a new skill all at the same time. Flyball  involves dogs sprinting down a lane to retrieve a ball and then racing back to the finish line. Canicross is an outdoors dog sport well suited to owners who would prefer to go out running with their dog in the cold weather rather than walking. And in the winter, running with your dog helps you to warm up quickly and provides excellent exercise for you both.
Indoor Games: Yes, you can exercise your dog inside. The good news is, there are many ways to do it and your puppy will never get bored. There are plenty of games you can play with your dog that will help them burn off some energy as well as get their brain working. Among the games are: Tug of war, Fetch, Hide and seek, finding objects and some brain games.
Hydrotherapy and Swimming: It sounds insane for outside swimming, but when it comes to indoor… There are plenty of centers around the country offering hydrotherapy sections.
Doggy pay plates:  Snow day? Gather your friends round with their dogs for a winter doggy play date.  Here is a good opportunity to have an outdoor fun cold day with your dog. If you know your dog loves to play with a particular canine pal, invite them round and let them have some playtime.
Obstacle course at home: If you're trying to find a way of exercising your dog indoors, then putting together an obstacle course could be the answer. The course you make could be really simple with a few markers to run around, or you could go all out and create a mini agility course in your lounge (that's if you have the room!)
If you go outside, do not forget important accessories
You get cold, and so does your puppy! If you have a fun winter walk with them or even a simple indoor day, you must not forget important accessories. From coats and vests to boots and blankets, there are plenty of items that will make your dog feel warm and cozy.
Credits to Purelypetsinsurance.co.uk