Home Staging for a Song- 10 Low Cost Tricks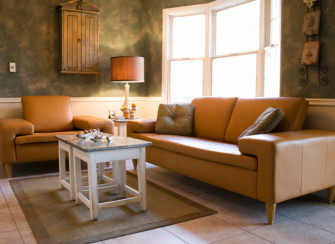 You've decided to sell your home, and you want to get top dollar for it. And you've seen TV shows where homeowners spend thousands of dollars staging their homes for sale, but there's an important detail to consider: You don't have thousands and thousands to spend.  The good news is there are many things you can do to spruce up the look of your home without shelling out a lot of money. First impressions matter, and that's why you want to start by making sure your home exudes curb appeal. Go all out with small do-it-yourself projects. Cut the grass, trim the bushes, get rid of dead branches and consider planting some flowers. Replacing the mailbox and house numbers and painting the front door can also make your home more appealing to a prospective buyer driving by. If the house looks dirty, wash the siding or stucco.  Sellers should give themselves at least a few weeks to get their homes ready for sale, especially if they need to take up carpet or repaint. While painting is fairly simple and inexpensive compared with other improvements, a new coat makes a significant impact. Here are 10 economical ways to stage your home for sale:
De-Clutter
Cleaning out the clutter just creates so much space, and that's what people are looking for – space. It just really makes your home look bigger and younger.
 Edit your Furniture
If your rooms are crowded, consider putting bigger and less attractive pieces of furniture in storage. This will open up space and make your home look larger. Make sure there is nothing obscuring buyers' eyes from focal points, such as fireplaces and views.
 Clean, Clean, Clean
Wash the windows, clean the cobwebs out of the corner and scrub the grout in the tile floors. Even though you're not selling the furniture, clean that as well because it adds to the overall impression you're trying to give.
 Spruce up the Outside
Add a new doormat, new house numbers and maybe a new mailbox. Paint the front door. The little stuff matters here.
 Refresh your Landscape
Clean up flower beds, add fresh mulch and plant flowers. Make sure bushes are trimmed and neat.
Paint
In some cases, you'd be wise to paint the entire house inside and out. In other cases, touching up and painting the trim might be enough. Paint over your kids' purple walls with a neutral color. If your kitchen cabinets look old and dated, paint those. You can never go wrong with white, cream or brown, but you should pick a color that matches the rest of the kitchen decor.
 Clean or Replace Light Fixtures and Cabinet Hardware
It's not a really expensive undertaking, but it really makes a difference in how the home is presented.
 Sweat the Small Stuff
Pay attention to details.  New, matching towel sets in the bathroom, accent pillows on the couch and fresh flowers can be welcoming elements to a homebuyer.
Replace Old Carpeting
If your home has hardwood floors underneath, that's even better. Ideally, you should refinish wood floors but even just exposing them is good.
Make Sure Each Room has a Defined Purpose
If you've turned your dining room into an office, return it to dining room status.
From MSN Real Estate