So you Wanna Buy a Fixer Upper?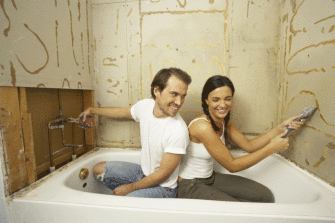 The home-improvement shows you see on TV make it look so easy. Buy a complete dump of a house with "good bones," and presto change-o, turn it into your dream home.  The reality, however, is that buying a fixer-upper is some serious work. One option is to hire someone to do the work, which is the way to go if you don't have the right experience for the job. But it's expensive, because you have to pay for labor. And you can't just check out and let the pro handle everything, because there will be any number of mistakes and miscommunications during a renovation.  Another option is to do the work yourself. You save money on labor (thanks, Dad!), but the work takes significantly longer because things such as day jobs get in the way. Plus we work more slowly than a professional, who does their specific kind of work day in and day out. And time is an important consideration — it can mean months and months of a living room full of scaffolding, plastic and dust.  If you have it in you, here are 5 reasons why buying a fixer can bring rewards:
Lower Mortgage Payment
Fixer-uppers are priced lower because they need some work. And the lower the sale price, the lower your mortgage payment will be, for the life of the loan. So even if you pour $25,000 into your home, you're still paying that same low mortgage payment. You're just living in a much nicer house.
A Better Neighborhood
Sometimes buying a fixer-upper allows you to live in an area that you otherwise couldn't afford. This can be especially important to parents who want to buy a home in a specific school district.  By buying a house in disrepair, you can get into the right area of town, then gradually improve the house as you have the funds. Plus, your new neighbors will love you for fixing the eyesore that's been lowering their property value.
Higher Return on Investment
This is what professional house flippers do for a living. They buy a rundown house, fix it up, then put it back on the market for a nice return.  But it's even more profitable for homeowners, thanks to Internal Revenue Code 121. The code states that if you own and occupy the house for two of the five years before you sell it, up to $250,000 of your profit is tax-free. A married couple filing jointly can claim up to $500,000 tax-free profits.  Of course, any homeowner can benefit from that rule, but homeowners who fixed a fixer-upper are likely to enjoy a higher profit when they sell.
Aesthetically Pleasing

 
If you're the type of person who peruses Architectural Digest for fun and has collected hundreds (or thousands) of interior-design images on Pinterest, buying a fixer-upper might be the only route for you. You have  looked at several nice-enough homes with amenities such as new carpet and updated granite counters. Only you hate carpet and you want butcher-block counters, so you want to replace those things. The new houses you have toured lacked the character you love in older homes. If that sounds like you, it might be better to buy the fixer-upper instead of the more expensive, updated house.
New Skill Sets and Knowledge Bases
This applies more to the DIYers, but even those who hire contractors are going to learn a fair amount about home construction.  You learn things such as how to paint rooms, how to refinish ceilings, how to tile a wall and a floor, how to use a compound miter saw, how to float and tape drywall, how to apply Venetian plaster and so much more.Not only does that give you a sense of pride, but should there also ever be a crack in the plaster, you know exactly how to fix it.
Fixer-uppers can be a pain but also rewarding. The most important thing is to be sure you know what you're getting into. Double check your budget and estimates, and shell out the money for a comprehensive inspection before you purchase the property. You want to buy a handyman's special, not a train wreck.
From Bob Vila
Sorry we are experiencing system issues. Please try again.