Fairfax County Market Update August, 2013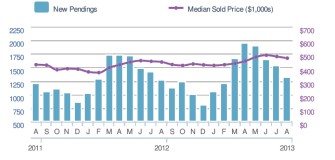 The nation's housing recovery continues, but the best news is that sales volume in our Northern Virginia footprint has increased by about 12 percent throughout 2013 above the number of homes sold year-to-date last year.  August home sales in Northern Virginia continue to defy sequestration and interest rate increases and amplify the need for more homes to sell.  While Northern Virginia conditions can be called a sellers' market, we also know that the below-average inventory rates create stress on buyers in multiple bid situations in an already competitive marketplace. With less than two months' supply of homes, hesitant sellers should know that demand is there, especially with the looming reality of interest rate spikes slightly rising through next year.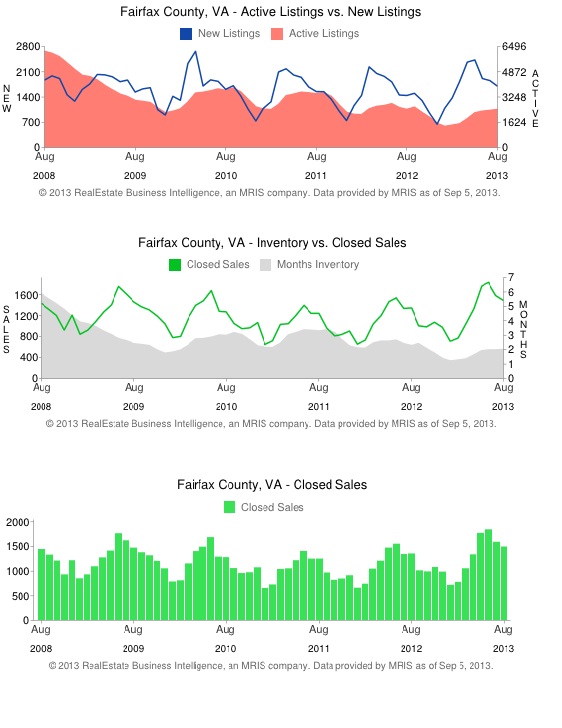 Home prices have rebounded due partly to the record low interest rates, which consumers understand cannot last. And now, the majority of the nation's loans are owned or guaranteed by Fannie Mae or Freddie Mac. Homeowner gains in equity are fueling the overall economy and the fundamentals are in place for continued slow growth.  We foresee seasonal adjustments this fall, but expect the growth pattern to continue so long as Congress and the Fed do not overreact at this early stage of the recovery.
Prices held steady in August, with the average sales price up by 1.5 percent from August 2012, to $533,379, compared with last August's average of $525,480.  The median price of homes sold in Northern Virginia rose by 3.64 percent in August to $470,000, compared with August 2012's median price of $453,500.  A total of 2,052 homes sold in August 2013, a 12.87 percent increase above August 2012 home sales of 1,818.  Homes that sold under $500,000 comprised 54 percent of total August homes sold, reflecting steady demand for that starter to first-move up market price range. Nearly 6 percent of homes sold last month were priced at $1million and higher in the NVAR footprint.  The NVAR region includes home sales activity for Fairfax and Arlington counties, the cities of Alexandria, Fairfax and Falls Church and the towns of Vienna, Herndon and Clifton.
Although inventory remains scarce, the number of listings has been steadily climbing each month since the beginning of the year.  Year over year, active listings decreased by just 1.4 percent in August. There were 3,305 active listings in August 2013, compared with 3,352 homes available the year before. Homes continue to be snapped up quickly once they are listed. The average number of days on the market for homes in August 2013 decreased by about 34 percent to 29 days, compared with the average of 44 days that it took to sell a home in August 2012.  The number of new pending home sales in Northern Virginia in August increased by about 2 percent to 1,771 compared with 1,739 new contracts pending in August 2012.