DC Auto Show Jan 23- Feb 2, 2014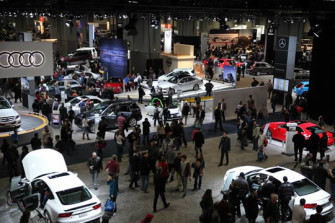 The Washington Auto Show is a huge event displaying more than 700 new makes and models of cars, trucks, mini-vans and sport utility vehicles from over 42 domestic and import automakers. The Washington Area New Automobile Dealers Association (WANADA) sponsors the auto show each year to entice, educate and entertain hundreds of thousands of consumers. The latest innovations in safety and sustainability will take center stage at the 2014 Washington Auto Show. This is a great way to learn about more developments in hydrogen, clean diesel, electric, biofuel and natural gas technologies as well as in safety. Visitors will also find free car giveaways, special guests, promotional contests, children's activities and live entertainment.
Dates and Times
January 23-February 2, 2014
Monday-Thursday, noon – 9:00 p.m.
Friday, noon – 10:00 p.m.
Saturday, 10:00 a.m. – 10:00 p.m.
Sunday, 10:00 a.m. – 7:00 p.m.
Show Location and Transportation
Washington Convention Center 801 Mount Vernon Pl. NW Washington, D.C.
Parking is limited in the area. The best way to get to the Convention Center is by Metro.The closest Metro station is Mt. Vernon Place/Convention Center.