Sell an Ugly Duckling Home- 7 Tips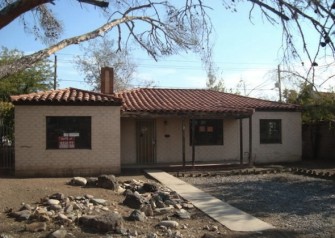 No for-sale house is ever perfect. But some houses are in better shape and consequently easier to sell than others. If yours isn't one of the stars, but you still need to sell it for the highest possibly price, it's going to take more than low mortgage rates to attract a crowd. How can you make your imperfect home shine bright enough to attract ready, willing and able buyers?  Here are seven tips to sell your not-so-perfect house.
Clean and Clutter-Free
First, de-clutter your house, removing anything that might distract a buyer's attention.  Get rid of everything on the countertops. Buyers don't want to see your toothpaste or your bobble-heads. If you're not sure what to remove: walk through your house with your real estate agent and a big cardboard box and start packing as you go. Also remove anything that's dirty or outdated, and if necessary, put in cheap replacements. Sometimes it's as simple as taking down those awful curtains and having a good cleaning crew come in. Cleaning is always a good idea.
New Carpet and Fresh Paint
Fresh paint and new carpet aren't worth the investment.  The cost might be less than you'd imagine and even an inexpensive paint job and commercial-grade carpet can make a positive difference. It's worth a few bucks to get the carpet and paint looking decent. Otherwise, you have to cut your price and generally you'll have to cut it a lot more than paint and carpet would cost.
Staging Sells
If you can afford to spend a little more money, hire a home stager.  Staging can go a long way— if it's done properly. Buyers' eyes go to some of the newness and they don't notice the older nuances. Don't go cheap, though, because no one likes to see bad staging. It becomes a funny talking point. Curb appeal counts, too. Picking appropriate ground cover and plants and painting the front door is so important. That initial impression really helps.
Price to Sell
If your home isn't perfect, you must price it accordingly. If you price slightly below the comparable listings, you're making it affordable for buyers to put what's needed into the property.  More buyers mean the potential for multiple offers. Multiple offers yield a higher net result.  If your house needs major repairs, you can sweeten the deal by offering buyers a repair credit to subsidize the cost.
Agent Incentives
Another tip is to offer an attractive commission or bonus to the buyer's agent. For example, your agent might put a note in the multiple-listing service that says, "$1,000 bonus to buyer's agent if sold at asking price." That creates an incentive for agents to show your house to buyers. It gets the buyers' agents excited about selling the property. Neither a repair credit nor an agent incentive will overcome a too-high price. Still, these tactics could help if you and your agent want to try them.
Truthful Marketing
A tip that's particularly on point for a less-than-perfect home is to be honest in your marketing, disclosures and photographs. Otherwise, buyers who want a home in prime condition will be disappointed and buyers who are open to repairs might not stop by at all. Give the pluses and defects because the home inspector will find those issues and that will lead to re-negotiation, or the home will come back on the market and the next buyer might not look at it because it fell out of escrow.
Hire the Right Agent
A savvy real estate agent can help you price your home, recommend a stager and paint and carpeting contractors and even point buyers to financing opportunities, like the Federal Housing Administration 203(k) loan, that could help them buy your home and make improvements or repairs, too.  Marketing matters a lot as well. It's important that an agent not cut corners with marketing even if a home needs to be fixed up. Find a good, local seasoned agent who's willing to spend the money to make it shine and stand out.
From MSN Real Estate
Sorry we are experiencing system issues. Please try again.