8 Top Rated Food Trucks in The DC Metro Area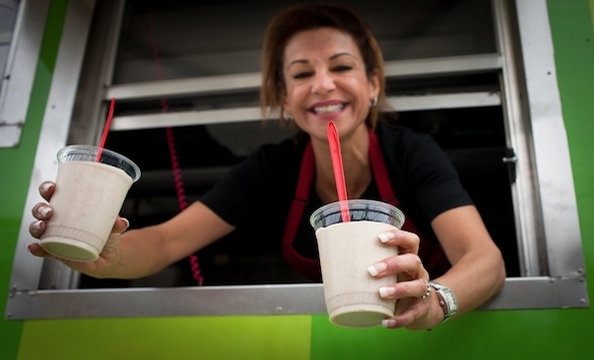 New food trucks seem to sprout up in the D.C. Metro Area like mushrooms after a heavy rain!  Now there are so many, we've stopped counting. Our lunch options have blossomed thanks to these "meal slingers on wheels". These Food Trucks provide a mobile dinner before a concert, ball game, or fourth meal after a few drinks.
There are even entire smartphone apps and websites devoted to tracking each truck's movement in real time. Ultimately, it's a testament to the burgeoning food truck scene that we can even bring you our unscientific list of the best food trucks in D.C. (Listed in No Particular Order)
So what Qualifies a Food Truck in DC? This simple chart explains it all!!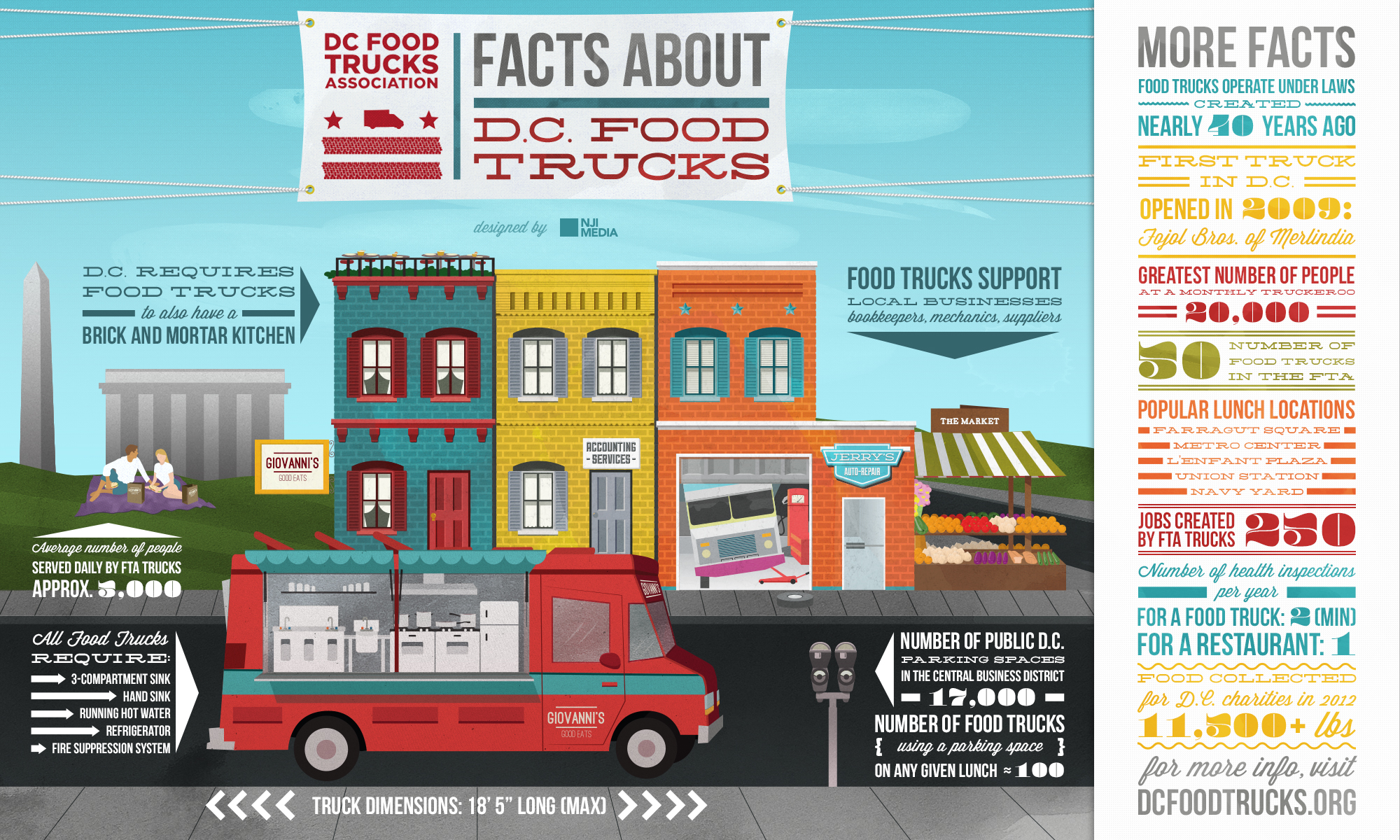 As a South Asian, it would be irresponsible of me to not point people toward the Chatpat Truck. It specialize ins Indian street food with a focus on North Indian Chaat and South Indian Dosas (paper thin rice crepes folded around various kinds of deliciousness). —Sriram Gopal
I have a soft spot for DC Slices. The decision to park outside the Velvet Lounge and Dodge City on Friday nights is a genius move considering that pizza is in higher demand when one is inebriated. Isn't that the business model behind Jumbo Slice? Not that this is a high bar, but DC Slices is better than Jumbo Slice as evidenced by the fact that it's just as desirable on a lunch break as it is as a fourth meal. Bonus points for the folks running the truck having an amazing memory in regards to the goings on of repeat customers. —Valerie Paschall
We know Far East Taco Grille keeps popping up on various best-of lists, but it's because it serves totally delicious and cheap street tacos. With four different types of moist, flavorful meat or tofu, flavorful sauces and salsas, and your choice of corn or flour tortillas, the creative combinations are practically endless. No matter what you get, the fusion of Asian and Latin flavors always feel bright and fresh. —Alicia Mazzara
Where else can you get Hawaii comfort food in D.C.? While Hula Girl certainly brings the novelty, I'm always impressed by the quality of the food. Bold flavors, tasty marinated meats, and fresh, crisp veggies characterize the sandwiches and teriyaki plate lunches. The line may be long, but your meal is grilled fresh to order, and yes, it does taste better that way. In an added touch of authenticity, the truck serves spam musubi (spam sushi) and Hawaiian soda from Waialua Sodaworks. —Alicia Mazzara
Pho never seems conducive to delivery when you can dine in, so how could a food truck do this spicy Vietnamese soup service? Maybe its owners ate some genius brains, but the Pho Junkies nail the crisp freshness that's integral to the soup's green ingredients while preserving the buttery heart and soul: the meat. The limited menu keeps it simple: steak ($10), chicken ($10), "all the meats" ($12) or a pick-three-proteins option ($10): get the brisket, skirt flank and meatball. Add on some all-shrimp summer rolls ($5) and ask for extra Sriracha with your plum sauce. Here's hoping they expand the menu this summer to include Vietnamese iced coffee. —Catherine McCarthy
It never ceases to amaze me how many people will wait in a really long line for seafood served out of the Red Hook Lobster truck. But, in the name of journalistic research, I queued up for a $15 Maine-style lobster roll (the line was 10 people deep at 11:40 a.m. on a Tuesday, so get there early). And you know, hype aside, it's a pretty damn good sandwich. The lobster is very, very lightly dressed in lemon mayo, and the toasted bun is buttery without being too rich. There's just enough fat and salt to play up the sweetness in the lobster, but not enough to overpower the flavor and slightly chewy texture. Next time Red Hook is in my neighborhood, I'll be sheepishly lining up with the rest of them. —Alicia Mazzara
Tasty Kabob's fleet of three green trucks regularly fan out over the city delivering massive portions of thin-sliced lamb gyro, juicy grilled chicken, and cumin-laced chickpeas. Be sure to get a healthy lashing creamy dill sauce and the newly reformulated chili-garlic hot sauce. A platter of meat or veggies over rice or salad easily doubles as two meals, and if you can't decide what to get, ask if they'll make you a combo platter. —Alicia Mazzara
I'll never forget the first time I found That Cheesecake Truck. I was at a Truckeroo event, searching for perfect after-lunch treat. Enter the good people at Sweetz Cheesecake, who sell perfectly portioned individual cheesecakes that are super creamy and just sweet enough. The truck offers a variety of cheesecake flavors, from lemon drop to black raspberry. But for for this human, nothing can beat the plain, delicious cheesecake. — Sarah Anne Hughes
Let your Voice be Heard and Support DC Food Trucks!!