Weekend Warrior: Top 10 Vineyards in Virginia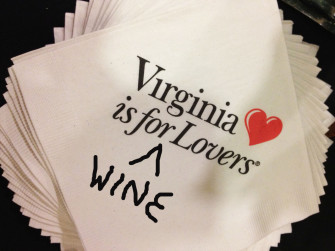 Wine growing in Virginia dates back to the early seventeenth century, when English settlers at Jamestown unsuccessfully attempted to cultivate European vines. The coastal climate of the Chesapeake proved inhospitable for grape growing, but modern technology and viticultural techniques have solved these problems. The topography and geology of the state vary, which has led to the production of a wide variety of grapes and vintages. Virginia is currently home to over 100 vineyards, and the growth of the wine industry here has largely been fueled by tourism. One of Virginia's most well-known growing regions is Monticello, which is located in the heart of the Piedmont region and features some of America's oldest vineyards–Jefferson grew grapes here! Monticello covers more than 800,000 acres, and is famous for its chardonnay, cabernet sauvignon, cabernet franc, and viognier. Another famous wine growing region in Virginia is the Shenandoah Valley, which covers 2.4 million acres along the western edge of Virginia. Like Monticello, the Shenandoah Valley specializes in chardonnay, cabernet sauvignon, and cabernet franc; additionally, it is well-respected for its production of merlot. We at wine.net love Virginia wines and have compiled a list of the Top 10 Vineyards in Virginia to use as a reference during your next visit to the Old Dominion. Enjoy your trip, and cheers!
Early Mountain Vineyards
Madison, Virginia / (540) 948-9005
Early Mountain Vineyards is an exciting and respected vineyard in Madison that is an essential stop on any Virginia wine tour. Early Mountain's wine has won many awards, and their high quality approach to making wine sets them apart from other area vineyards. Early Mountain is kid and pet friendly, and their tasting room also features a full-service restaurant that serves a seasonal menu. There is room for 80-100 people in the tasting room, and the vineyard also features picnic tables, fire pits, and a patio. What truly distinguishes Early Mountain from other Virginia vineyards is the fact that they serve wines from all over the state, not just their own. They call this the "Best of Virginia," and visitors to this vineyard enjoy spending the entire afternoon here, rather than traveling to 3 or 4 different vineyards. The vineyard is open from 11-5 on Monday, Wednesday, Thursday, Saturday, and Sunday and from 11-8 on Friday. You can learn more about Early Mountain by visiting www.earlymountain.com or @EarlyMountain on Twitter.
Three Fox Vineyards
Deplane, Virginia / (540) 364-6073
One of the most distinguished wineries in Virginia is Three Fox Vineyards in Delaplane. Described as the "Tuscany of Virginia," this winery specializes in delicious Italian-style wines. It features 50 acres of open space that is perfect for family, children, and pets alike. The views are idyllic, the wines refreshing, and the fire pits and heated areas make this vineyard an excellent year-round spot. Most notably, Three Fox is opening "Cigar Lounge and Red Wine Bar" this fall that is sure to be a must-see! Three Fox is open Thursday, Friday, Saturday, and Monday from 11-5 and from 12-5 on Sunday. You can learn more about Three Fox Vineyards at www.threefoxvineyards.com, www.facebook.com/threefoxvineyards, or visiting them on Twitter @3FoxVineyards.
Rappahannock Cellars
Huntley, Virginia / (540) 635-9398
Another winery that is a must-see during any visit to Virginia is Rappahannock Cellars in Huntly. This vineyard is owned and operated by a family that moved from California to Virginia in order to give their children a more wholesome place to grow up. Quality is extremely important to Rappahannock Cellars, and the matriarch is a member of the Mariani family, which has been involved in family farming and fruit packing for 100 years. The winery describes themselves and their wine club as "California-esque" because, when they started their club in Virginia, few—if any—wineries were running a subscription-based wine service. Rappahannock's wine club offers an unusual degree of flexibility, as they allow members to "swap out" wines that have been selected for other bottles that they might happen to prefer over the intended selections. Eighty-percent of the winery's business comes from their wine club, and members of the club receive a 50% discount off of the purchase of 12 or more bottles. Ultimately, the wine club is focused on making everyday wines accessible to the public. Anyone (club member or not) is welcome to visit, and all of Rappahannock Cellars' core wines are available to the public. The vineyard is open from 11:30-5 Sunday through Friday and from 11:30-6 on Saturdays. You can learn more by visiting www.rappahannockcellars.com or @rcellars on Twitter.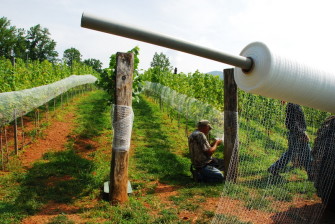 Ankida Ridge Vineyards
Amherst, Virginia / (434) 922-7678
Ankida Ridge is a family-run micro vineyard located at 1800 ft on the eastern slope of the Blue Ridge Mountains of Central Virginia. Here on our granite soils, we practice environmentally sensitive viticulture and integrate our farm and vineyard to create biodiversity and sustainability. We use our sheep to graze the vineyard floor and keep the vineyard as environmentally friendly as possible, encouraging the presence of beneficial insects, hummingbirds, honeybees, wildflowers, dogs and children! The winery is open for tastings on the first Saturday of every month from 1-5 PM. To learn more, visit www.ankidaridge.com.
Fabbioli Cellars
Leesburg, Virginia / (703) 771-1197
Fabbioli Cellars is a small, family owned and operated vineyard and winery. We focus on growing and making high quality wines using traditional methods and 21st century knowledge. Through hard work, good decisions and great relationships with customers, family and friends, we have been able to succeed at this dream. We hope you visit our tasting room soon to experience what we mean when we say: "Real people. Earth friendly. Fabulous wines." The vineyard is open daily from 11-5. Learn more about www.fabbioliwines.com or @FabbioliWines.
Linden Vineyards
Linden, Virginia / (540) 364-1997
There is something special about tasting wines at their source (in situ as the British like to say) and talking to the people involved in its making. We offer tastings whenever we are open. The fee is $7.00, but no charge to case club members and their guests. We love to share our passion and knowledge of our wines. Linden's current offerings are posted on our web page under current releases. For those interested in greater depth, we offer on the weekends a special reserve cellar tasting ($25.00 fee). You can sign up for it when you arrive. We taste our special single-vineyard wines and older vintages. It happens every hour on the hour from 12:00 to 4:00. We also hold an education in-depth tour of the vineyard and the cellar at 11:30 am on Saturdays and Sundays. The tour typically lasts 30 minutes. There is no charge for the tour.
Tastings are available to all visitors whenever Linden is open. However, in keeping with our "quiet and calm" philosophy, for those who would like to stay to enjoy a glass of wine, Linden's deck and grounds are only available to members of our Case Club on Saturdays and Sundays. We regret that because of facility restrictions Linden is unable to accommodate everyone. The quietest time to visit us is during the week (Mondays and Fridays except when we are closed on those days during the winter months). On these days our deck and grounds are available to all visitors (groups up to four only). To learn more about this vineyard, visit www.lindenvineyards.com.
Barboursville Vineyards
Barboursville, Virginia  / (540) 832-3824
The entire estate is open for tasting our wines in a stroll or in a picnic, and our informed and enthusiastic hosts conduct tastings continuously in the Tuscan Tasting Room, every day of the week, and in Library 1821 on weekends. The Tasting Room is where the broadest range of our current vintages is introduced, while the Library 1821 presents a changing selection of flights of older vintages from our cellars, and with bite-sized culinary pairings designed by our chefs. Every encouragement is given, also, to enjoying our wines in the truly splendid lawns surrounding the historic Landmark Ruins of Thomas Jefferson's mansion for Governor James Barbour, a pleasant stroll away. The winery's tasting room is opened from 10-5 Monday through Saturday and 11-5 on Sunday. To learn more, visit www.bbvwine.com or @Barboursville on Twitter.
Sunset Hills
Purcellville, Virginia / (540) 882-4560
Providing an atmosphere like no other, Sunset Hills Vineyard shares spectacular mountain and sunset views, pastoral old-world style farm grounds and a stunning Amish restored historic barn.
From vine to wine, our grapes pass a set of human eyes and hands a minimum of fifteen times to ensure that only the best grapes end up in your glass. It is this relentless pursuit of excellence that has earned us numerous medals in local, national and international wine competitions in just six short years. We're dedicated to making fine wines and to doing it in a way that is gentle on the land. That's why we're using Virginia sunshine to make wine twice: once to grow our grapes, and again by utilizing the electrical power generated from our 245 solar panels to run the winery and winemaking operations. By adding modern science to historic renovation, we have given new life and new purpose to our 140 year old farm, which is now a favorite destination for hundreds of Virginia wine lovers who visit us each weekend. The vineyard's tasting room is open from 12-5 Monday through Thursday, 12-6 on Friday, and 11-6 on weekends. Learn more by visiting www.sunsethillsvineyard.com or @sunsethillwine.
Stone Tower Winery
Leesburg, Virginia / (703) 777-2797
We have two tasting options available: our Current Vintages is a selection of 4 wines for $10 & our Reserve Tasting is a selection of 6 wine for $15. To ensure that every guest receives the best service possible, all groups over six must make reservations for tastings, parties, or just casual visits. We offer a variety of options to ensure your party has a fabulous outing with one of our group tastings and tours. Give us a call at 703-777-2797 or make reservations online. We welcome you and your family to come enjoy Stone Tower during our regular hours. To ensure their safety, all children must remain in designated areas and be under close adult supervision at all times. As we are a working farm with ponds, machinery and other inherent dangers, this policy is incredibly important to ensure that your children are safe and well cared for; any families that do not follow these guidelines will be asked to leave. Please, no balls or other sports equipment. We have a variety of a la carte snacks available for sale in the Tasting Room, including local & imported cheeses, charcuterie, fresh ciabatta, crackers, artisan chocolate and more. You are also welcome to bring a picnic to enjoy, outside only. Stone Tower Winery is open from 11-6 Thursday through Monday and by appointment only on Tuesdays and Wednesdays. Learn more at www.stonetowerwinery.com or @StoneTowerWine.
Potomac Point Winery
Stafford, Virginia / (540) 446-2266
Since arriving on the Virginia wine scene in 2007 Potomac Point Winery has made quite a splash. Our Mediterranean estate will make you feel as if you've entered Tuscany, only to be up-scaled by our award winning wines. Only 45 minutes outside of Washington, DC we offer a variety of leisurely activities and events. With a selection of wine tastings, facility tours and a full bistro serving lunch and dinner, Potomac Point Vineyard and Winery is a destination in itself. Join us in the spacious and elegant tasting room, to sample our award winning wines. Adjoined by the gift shop, D'vine lounge and outdoor Courtyard, the tasting room is the heart of the winery and the ideal space to begin your winery adventure.
Want an up close and personal look at Potomac Point Winery? Never been to winery or vineyard and want to know what it's all about? Love wine and want to get a behind-the-scenes look? Then consider touring our winery and vineyard. Public "Walk-In" Tours are given, based on availability, with a minimum of 10 guests on Saturdays and Sundays. Tours typically last 30-45 minutes. If you know, in advance, that you'd like a tour with your group (10 or more), please call us or email to schedule your tour. To learn more, visit www.potomacpointwinery.com or @PotomacPoint.
*Courtesy of www.wine.net