Win the Bidding War- 6 Ways that Help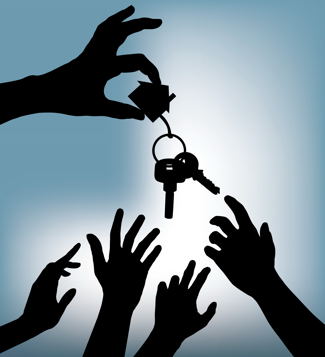 The bidding wars are back. While not every local real-estate market is experiencing bidding wars, some homebuyers find themselves competing for houses because not many are for sale in their markets.  To compete in a bidding war, buyers need to prepare financially for the home purchase. They have to be familiar with property values in their target neighborhoods. And they must know what they want. While offering the most money might seem like the best way to win a bidding war, sellers don't always choose the highest offer. Instead, sellers often prefer offers that are most likely to go through and that meet their conditions. Here are six tips to increase your chances of making the winning offer in a bidding war for the house of your dreams.
Have Your Lender on Speed Dial
Too many buyers talk to a lender and start looking at homes at the same time. You need to have everything (financial) done before you begin to look. Then you are more likely to win a bidding war. You need to make sure your lender is ready to issue an approval letter specific to the property at the drop of a dime. Keep a file folder constantly updated with your most recent pay stubs, all pages —even blank pages — of recent bank statements and any other documentation the lender may need to make a quick loan approval. A strong preapproval is essential, especially if you are competing against buyers with cash to offer.Any hint that you might have trouble qualifying for financing could eliminate you from the seller's choice of buyers.
Cash in Your Pocket and Proof to Back it Up
An all-cash buyer can even waive the appraisal. If you're a noncash buyer, you need to have a copy of your proof of funds with your offer, along with a strong preapproval. At a minimum, you should offer a down payment of 20% if you know you'll be competing against other buyers. You need to show you have the funds to close and the ability to make up the difference if the appraisal comes in too low. A higher-than-customary earnest money deposit can sometimes impress sellers when there is a bidding war.Just make sure you fully meet all deadlines and terms of the contract so you don't lose your deposit.
Make a Personalized Offer
To compete against other buyers in a potential bidding war, make sure you see a home the day it goes on the market, so you can move quickly.Your buyers agent should talk to the listing agent to find out what is motivating the sellers and what they need — such as a quick settlement or a post-settlement rent-back. Be flexible, and work that into your offer. Make it as easy on the sellers as possible so your offer is chosen above 15 others. While price is important, sellers want to know the buyer can finance the property and meet any other conditions. If you don't know the date when the sellers want to settle, you can write "will settle on seller's schedule" into the offer.
Keep Your Home Inspector on Alert
Most real-estate agents don't recommend buying a home without an inspection, but making your offer contingent on an inspection can weaken your position if other buyers are waiving an inspection contingency. Buyers should carefully read all disclosures and reports that are available, because some sellers provide a home inspector's report for buyers. You can also have an home inspection done after your offer has been accepted that can provide information on the home's condition.  You could bring a home inspector along when you first look at the home and say the inspector is a friend, just to get a feel for the condition of the home without an in-depth checkup. If the inspector says the house looks OK, you can feel better about waiving the home inspection contingency.
Eliminate or Reduce Contingencies
One of the best ways to make your offer stronger is to eliminate contingencies regarding home inspection, financing or appraisal.  That puts you in a more solid position to win a bidding war. If you have cash reserves to cover the gap between a low appraisal and your offer, you can waive the appraisal contingency, but leave your financing contingency in place to protect yourself. If you can't waive these, you can at least shorten the time frame, such as (by) reducing the loan contingency to 10 days if you know your lender can provide you with proof of financing quickly. Offering to buy the home as is can be tempting, but make sure you have an accurate idea of the home's condition with an informational inspection for safety.Buyers need to make their offer as strong as possible, so if you don't need a home warranty or help with closing costs, don't ask for them.
Try an Escalation Clause – MAYBE
An escalation clause is an addendum to a purchase offer that authorizes your agent to offer a specified amount above the best offer the seller receives. It's a powerful way to wage a bidding war. Buyers are offering escalation clauses a lot less often than when the housing market was booming, unless the home is priced way below market value. Buyers who want to offer an escalation clause may choose to go as high as they can with the understanding that they can live with the price if it goes to the maximum amount. They also need to feel that if someone else gets the house at a higher price, that buyer overpaid.