Welcome Home Buyers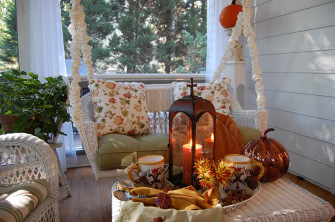 As potential buyers walk up to your home, the front porch should appear welcoming, entrancing and homey. If it's dusty, barren and rotted, they may not make an offer. Thus, the best way to increase front porch appeal is to add natural elements to blend it with the yard. Here are front porch landscaping tips to make yours comfortable and welcoming to prospective homebuyers.
Sit a Spell
Install comfortable furniture on your front porch. Depending on the square footage, you can arrange a space with a loveseat, ottoman, coffee table and a rocking chair or other single seating space. It will be like an outdoor living room for people to relax in during warm days or cool nights. To complete the space you might add:
An outdoor rug to make it stylish
Outdoor pillows to go on the couch or loveseat
Outdoor art like statues, paintings or wind chimes
Curtains to go around the exterior window frames
Swing Away
One of the most reminiscent and picturesque pieces of front porch decor is a swing. It's relaxing and comfortable for viewing scenery or resting in the afternoon. There are various types of swings, including standing and hanging ones, to choose from. Swings can be made from wood or metal materials, with different colored cushions to match the rest of the decor or the home exterior. You can choose to have one installed professionally by a handyman or do it as a DIY project. It is essential to your porch decor, whether it's the only furniture you install or part of a complete set.
Utilize a Green Thumb
Potted plants are a great way to enhance the porch decor and accent your entryway as a whole. It's important to give them tender loving care and use plant types that can handle shade, or else they will dry out and wither. Look for perennials and annuals that are drought-resistant and require little maintenance. You might consider putting urns with plants on your steps or around the exterior to draw in visitors.
Welcome them Home
Regardless of what you do with the front porch, the front door also has to look and sound inviting to potential buyers. If the door is creaking and makes a jarring sound, you can have it repaired for little money. If the paint is peeling off and represents a visual eyesore, it will detract from appeal. In this case, you should consider calling in a pro to repaint the door a bright color. Other ideas to consider are adding new house numbers and installing a door knocker or doorbell. This will complete the appeal of the front porch and makes the entryway ready for potential  buyers.
-From Realty Times