The Best Waterparks in the DC Metro Area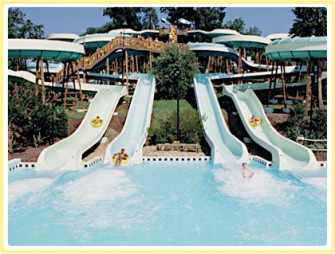 The kids are out of school,  the days are long and the weather is hot.  With so many ways to cool down, one of the most fun is to visit one of our areas waterparks.  Choose a destination, pack a picinic and gather the kids bathing suits, towels and goggles. Gas up the car and head to one of the waterparks for a day filled with cool realxing fun.
Williamsburg, VA (800) 772-8886.
Water Country USA features water rides and attractions, entertainment, shopping and restaurants — all set to a surf theme. Kid's Kingdom has water slides for young children, including play equipment, slides, fountains, a skill games area; Polliwog Pond, a dry play area and an outdoor theater.
Doswell, VA (804) 876-5000.
Paramount's Kings Dominion is a 20-acre water park with a 650,000 gallon wave pool, water slides and more than 50 water attractions.
7700 Bull Run Drive, Centreville, VA (703) 631-0552.
The water park includes a 1,000 gallon dumping bucket, water slides, waterfalls and squirters.
4001 Eisenhower Avenue, Alexandria, VA (703) 960-0767.
Great Waves at Cameron Run includes a wave pool, three-flume waterslide, water playground, lap lanes, bathhouse, snack bar, and raft rental. Also, nearby are a miniature golf course, batting cages, picnic shelters, and a lake.
1400 Lake Fairfax Drive, Reston (703) 471-5414.
At the Water Mine relax on an inner tube on Rattlesnake River or let your toddlers play in Tenderfoot Pond, a gated, "zero depth" pool with a pint-sized slide, water-spewing turtle, and gentle bubblers. Admission includes unlimited rides on the carousel and tour boat.
Mitchellville, MD (301) 249-1500.
Six Flags America has a five-story interactive water tree house, one of the largest wave pools in the country, water slides, inner tube flume, lazy river, splash pool for the younger crowd and more.
7210 Allentown Road, Fort Washington, MD (301) 449-5567.
Allentown Fitness & Splash Park has a newly renovated 50-meter splash pool with slides, lily pads, log walks, a diving well with a 1-meter board, a wading pool, a picnic area with a volleyball court, and a snack bar. The indoor fitness center includes a heated, 25-yard, 6-lane pool with a chair lift, a heated training pool (2 ½ – 3 feet deep), a hot tub, two racquetball courts, a Nautilus weight room, a cardiovascular room, and lockers.
510 South Frederick Avenue, Gaithersburg, MD (301) 258-6445.
The Water Park at Bohrer Park includes several activity areas with lap swimming, rain drop umbrella and a double water slide. The splash pool, designed for children under age five, has a frog slide, seal spray, and a special eating area.
7601 West Park Drive, Hyattsville, MD (301) 422-7284.
Lane Manor Splash Park is a 40-acre park with a 25-meter pool, including two slides, lily pads, a snake, and an alligator, and a separate wading pool