6 Things your Home Listing Should Say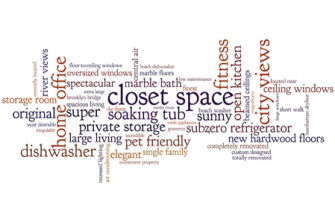 A picture may be worth a thousand words, but the right turn of phrase in a home listing can make a big difference in how fast a home sells and how much a seller can get for it.The right description can get your home a second look; the wrong one can sour buyers on the property in a matter of seconds. So choose those words wisely. It's all about capturing an audience.  Try to create something that will just get buyers or agents to take a look at it. Below, the six elements pinpointed of a good listing, as well as the things that are better left unsaid. Here are some tips:
Highlight Unseen Amenities
The data fields on a listing can tell you how many bedrooms and bathrooms a house has, but they won't tell you the whole story. Neither will the photos. The description is the place for things that aren't obviously seen in the property details. Important amenities such as an oversized garage or great views should be played up in the write-up. If you can see a picturesque vista from almost every room in the house, say so. Likewise, if a house is private because it backs up to an open space rather than a neighbor's property, that belongs in the description too.

Be Specific
You don't just want to just say "beautiful remodeled kitchen" in a property description. Instead, point out features and brands that prospective buyers covet. Drop brand names such as Viking, Sub-Zero and Bosch.  Identify granite countertops and stainless-steel appliances. Mention appealing features such as those pullout shelves in the kitchen cabinets or the walk-in pantry.  Try to hit buyers hot buttons. Give as many details or facts about a property as possible. That could include updates such as a new roof, separate his-and-hers closets, a finished basement or a master bedroom downstairs. A saltwater pool, or a pool that has been recently resurfaced or updated, is also worth distinguishing from its traditional counterparts.
Use the Right Adjectives
Too much fluff can be off-putting, Johnson says, so use descriptors sparingly. And choose the words that pack the most punch. A study conducted more than a decade ago – but to which agents still refer — found that homes described as "beautiful" sold for 5% more than those in "move-in condition." Likewise, homes that were described as "beautiful" or "gorgeous" sold 15% faster. That doesn't mean that every house or room deserves that descriptor, but if it fits the bill, by all means use it, agents say. "Beautiful landscaping" is a good combination. But don't exaggerate. The worst thing is building buyers' expectations with a grand description of something only to have it fall far short in real life. Remember, "spacious" is a relative term. "Open floor plan" on the other hand, works for everyone.
Good Grammar is Mandatory
Bad spelling and grammar can be as big a deterrent as hokey copy. It sends the message that a seller doesn't have good agent representation. If an agent can't take the time to spell-check the listing, what other corners is that agent going to cut? Moreover, be careful with abbreviations that people might not understand. While agents might use "WBF" as an abbreviation for wood-burning fireplace, many home shoppers would have no idea what that meant and therefore can't be swayed by it.
 Provide Motivation
Sometimes stating something is enough to make a large number of people believe it's true. And that goes for pronouncements on pricing.The phrase "priced to sell" or "Great Deal!" can be more of a call to action for buyers, even if the home in question is priced on par with others in the area.
Tout Lifestyle
Buyers are also motivated by emotion. A home is a place where they will create memories. So give them a hint about what those memories might be. How will they enjoy the home and its features?  "Relax with a glass of wine on the custom deck overlooking the well landscaped backyard" or "entertain friends in the gourmet kitchen." Does it have a front porch? How about "relax with a glass of lemonade on the front porch."  If a community has great amenities such as a neighborhood pool or nearby walking or biking trails, mention them. If the elementary school is a short walk away, that should be featured prominently as well. Ditto for perks such as short commutes or proximity to highly desirable restaurants and shops.  Just remember to deliver the biggest selling points of a house in the first couple of lines, whether it's "tons of storage space" or "beautifully landscaped front yard."