Simple but Welcome Housewarming Gifts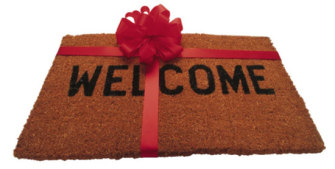 Housewarming gifts don't have to be homemade brownies or a "Home Sweet Home" cliché.  New homeowners have just plunked down a serious chunk of their savings. Help them settle in with these practical gifts and offerings, in a range of budgets, that can truly make a new house feel like home.
Dinner
Seriously, moving is hard work. Who wants to cook when you're surrounded by boxes and can barely remember where your phone is, much less a clean pot? A stash of paper plates, plastic cups and a gift card to a local restaurant can feel practically luxurious after a long day of unpacking.
Drinks
A six-pack of craft beer or a bottle of wine can serve as a fun way to christen a new home. Include glassware, openers and coasters for a gift that lasts longer than the consumables will!
Plants
Look beyond your grandmother's ficus. If you know the new homeowner's style, look for a fun planter that matches—farm-style wood, modern ceramics or a color that matches the decor.  Because really, unless the homeowner in question has a horticultural degree, there's always room for a little greenery. Or, if your friend has a nice yard, a few tasteful outdoor flowers ready for replanting could have an impact.
New Address Items
Gift self-addressed fine stationary. Order mailing labels in fun designs or self-inking stamps.  If you feel confident in your knowledge of the new homeowner's design tastes, order fun house numbers or a plaque for inside the home with the family name and new address.
Unpacking Essentials
Duct tape, extension cords … everyone needs things like this when they move.  Try an "unpacking survival kit" in  a five-gallon bucket with some mugs, tape, scissors, Band-Aids, microwave popcorn and a pizza gift card.
Make Pictures Perfect
Beautiful frames—even basic ones—always add style. Include extra wire, picture hangers and a level to help with both the new pictures and the old.
Safety Devices
Think smoke detectors and fire extinguishers—especially for first-time homeowners who previously rented, where  landlords usually handle such things.   While technically smoke detectors might be considered fixtures that should stay with the house, you can't be too safe.
Garden Tools
A hose, good shears and ergonomic shovels never go to waste. Gift them in an organizing bin or tote with room to customize.
Discounts
Don't have a lot to spend on a friend or relative? Rustle up some discounts. Think Bed, Bath and Beyond coupons we all get in the mail weekly.
 Gift Certificates
The old standbys work for a reason. As new homeowners settle in, they'll notice fixes and projects that they'll want to make the home truly their own.  With a gift certificate, they can cover everything from new paint to caulk—their call.
-From Realtor.com