Run or Walk- Holiday Turkey Trot Guide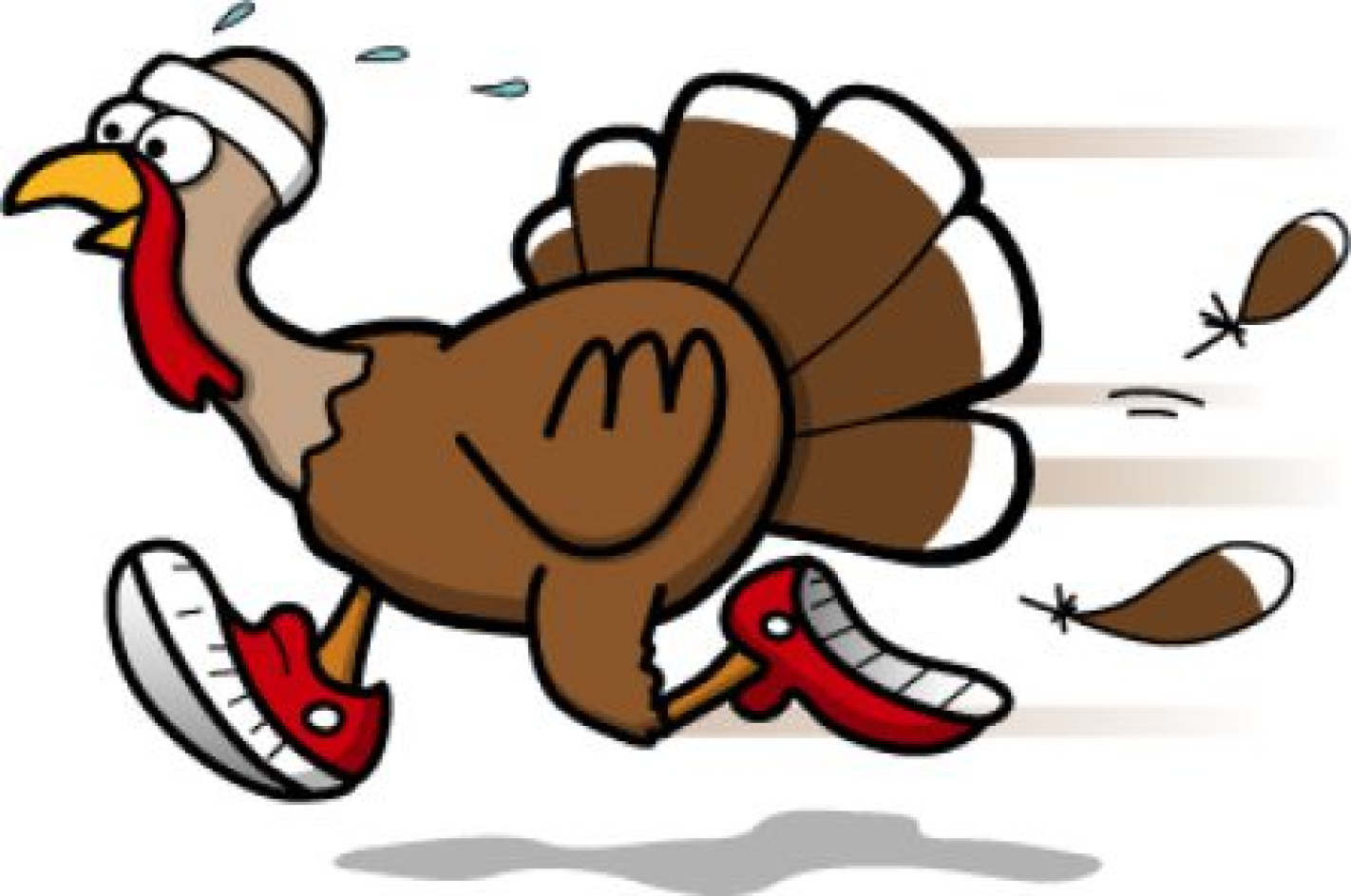 You know they're coming: Those extra holiday pounds.
How to avoid them? Here's a guide of Turkey Trots, fun runs and other events to get you moving before the tryptophan sets in.
Turkey Trot 10K (Kids Mile): Nov. 23, 8:30 a.m. Lejeune Hall, Marine Corps Base Quantico, 3250 Catlin Ave., Quantico. 10K is sold out, but there are still spaces for the kids fun run. Take photos with live turkeys. There will also be a finish line petting zoo with bunnies, chickens, ducks, goats, a mini horse, mini cow and more. More info.
Freeze Your Gizzard: Nov. 23, 9 a.m. Ida Lee Park. 60 Ida Lee Dr. NW, Leesburg. 5K run and 1 mile fun run in its 11th year. 5K registration: $25 ($30 race day). Fun run registration: $10 ($15 race day). More info.
Herndon Turkey Trot 5k: Nov. 23, 4 p.m. Herndon Community Center, 814 Ferndale Ave., Herndon. All ages. Prizes given for first and second place in several age groups. Overall male and female winners win a Thanksgiving dinner with all the trimmings. $15 pre-registration. More info.
Cranberry Crawl: Nov. 23, 8:30 a.m. East Potomac Park Golf Course, 972 Ohio Drive SW, Washington DC.  5K/10K Run and Race Walk. (703) 481-3530. Sponsored by Potomac Valley Track Club.
Crop Hunger Walk: Nov. 24, 2 p.m., The Living Savior Lutheran Church , 5500 Ox Road  in Fairfax Station is hosting their 21st Annual CROP Hunger Walk. Hunger walks are held nationwide.
Stuff the Sleigh: Nov. 24, 9 a.m., at the entrance to 7925 Jones Branch Drive in Tysons Corner. The The 5k and 1 mile walk benefits human-trafficking charity Abolish Child Trafficking Now (ACT-NOW), which works to eliminate child trafficking in the D.C. area and worldwide. All entrants are asked to bring an unwrapped holiday gift to the "sleigh" to benefit those families. At the event, the Tysons Regional Chamber of Commerce will also celebrate the near completion of Metro's Silver Line, which is set to open early next year. More info and registration.
Virginia Run Turkey Trot: Nov. 28, 8 a.m. Virginia Run Community Center, 15355 Wetherburn Court, Centreville. 5K run and 2K walk in it's 25th year. All proceeds go to Life With Cancer. 5K registration: $30 thru Nov. 27. 2K registration: $20 thru Nov. 28, $10 for ages 12 and under and 65 and over. More info.
Arlington Turkey Trot (Sold Out): Nov. 28, 8 a.m., corner of North Pershing Drive and North Highland Street. Christ Church of Arlington is hosting its 8th annual Turkey Trot, a 5-kilometer fun run/walk through Lyon Park and Ashton Heights. More info here.
YMCA Thanksgiving Day Turkey Trot 5K Run/Walk: Nov. 28, 9:05 a.m., Fredericksburg Expo Center: 2371 Carl D Silver Parkway, Fredericksburg, VA 22401. Awards. Registration and more info.
38th Annual Alexandria Turkey Trot: Nov. 28, 9 a.m., George Washington Middle School, 1005 Mt Vernon Ave., Alexandria. Online registrants have the option of making a donation to race benefactor ALIVE!, a nonprofit organization consisting of volunteers from more than 40 religious congregations and community groups working to help in-need Alexandrians. This year's race will once again have special fields for runners with strollers and runners with leashed dogs. The 5-mile race is presented by the Del Ray Business Association and DC Road Runners. To register for the 2013 Alexandria Turkey Trot, visit the event website.
Thanksgiving Day Trot for Hunger: Nov. 28, 8:30 a.m. Beginning at Freedom Plaza, between 13th Street, NW and 12th Street, NW, Washington, DC. Sponsored by SOME (So Others Might Eat), this popular 5K fun run and family walk benefits programs for the homeless, and helps provide more than 800 meals to the hungry every day of the year. More info.
Ashburn Farm on Thanksgiving Day: 8:15 a.m., 43454 Crossroads Drive, Ashburn. Join Crossroads UMC and the Ashburn community for the 20th Annual Ashburn Farm 10k/5k/2k on Thanksgiving Day Race. In this annual fundraising event, hundreds of people have gathered for a time of fun, fellowship, and a good cause. All proceeds from this race support needy and vulnerable children in Uganda Africa. Crossroads UMC's mission in Uganda fully funds 72 elementary children and 75 secondary children with needed school tuition, uniforms and play clothes, all school supplies and transportation plus medical care. More info.
Turkey Chase, Bethesda-Chevy Chase YMCA: Nov. 28, 8:30 a.m., 9401 Old Georgetown Rd. Bethesda, Maryland (301) 440-1854. 10K Race and 2 mile Fun Run. Supports the YMCA's Youth and Family Services, YMCA Bethesda-Chevy Chase and the Bethesda-Chevy Chase Rotary Club Foundation. More info.
Gingerbread Mile: Nov. 29, 8 a.m., Reston Town Center. Open to tots through high school age. Tot trot is two blocks; 4-5 year olds do a half mile. Everyone else does a mile, beginning and ending on Market Street near the foundation. Registration is $5; any additional donations will benefit Children's National Medical Center in Washington, DC. Online registration closes Nov. 26 at 8 p.m.
Drumstix Dash 8K: Nov. 30, 9 a.m. Burke Lake Park, 7315 Ox Road, Fairfax Station. Benefiting Housing and Community Services of Northern Virginia. Also has a Family Fun Run. 8K registration: $30 ($35 race day). Fun run registration: $15.  More info.
Snowman Stampede: Dec 7, 5:30 p.m., 7700 Bull Run Drive,  Centreville. The stampede featuring the Light up the Night 5k and Reindeer Mile Run allows you to take a look at a holiday light display while you jog. The race is at Bull Run Regional Park. Registration and more info.