Returning to your Past- Moving Back into the House in Which you Grew Up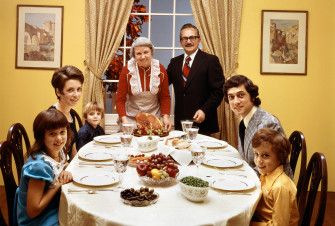 What could be sweeter than moving into your childhood home—tucking your own kids into your old bedroom at night, or serving Thanksgiving dinner in the same dining room that was the backdrop for decades of your own holidays? And then there are the logistical benefits: The place may be cheap (or—praise the Lord—free!) and near extended family. And you won't have to adjust to an unfamiliar environment. But take a reality check: A move like this has its pitfalls, too. So if you're contemplating a return to the home where you (or your spouse) grew up, consider these hard-won pearls of wisdom.
Déjà Vu
Childhood homes often feel "haunted" in the sense that you might see visions of your younger self everywhere—tearing up the hallway in your roller skates as a kid, clambering down that tree outside your bedroom as a tween, or sneaking in the backdoor at 2 a.m. as a teenager. And all that nostalgia can be jarring to your present-day reality. Overwhelming, even.  Your personality has most likely evolved, so how you interact with or experience the house won't likely be the same.
The Old Neighborhood has Changed
What used to be a street quiet enough to play on now connects to a dense strip of luxury high-rises and stores. Cars frequently speed through the street, seeking shortcuts to other major arteries. Playing in the street just isn't safe anymore. The area has much more of a big-city feel to it now than it did back then. The house may be an oasis, but all around us is now madness. Changes can be hard to accept at a place that's so important to you. But if you base your expectations on the understanding that things most likely will be different, it will be easier to start again while still respecting your memories.
Insulting Renovations
So, you move family from Seattle back to the New York City apartment where you grew up, thinking your  biggest concern would be getting your kids settled in their new school. Instead, the biggest challenge was something else entirely: managing your mother's reaction to your desire to renovate the kitchen.Your mother keeps asking what's wrong with the 'new' kitchen and bathrooms she installed in the 80's while you explain they're wildly outdated. You go ahead with the changes, but it takes a whole lot of explaining before your parents make peace with it. Patience went a long way toward mitigating hurt feelings.
Your Spouse May not Share your Sentiments
You and your significant other may have different priorities. His goal: Update and modernize the home for today's style of family living. Your Goal: Preserve the house's charm and history.  The original mahogany doors got painted, and the majestic archway that delineated the foyer is gone, now living in something more generic.
The bottom line: Childhood homes are integral parts of our identities. And while it's unrealistic to expect that every brick and doorway should remain untouched until eternity, homeowners should tread carefully when it comes to change. The point is not to go back to a house and live in the past, but to incorporate its significance and the opportunities it offers into your new, current life.
-From Realtor.com