County Fairs in Maryland and Virginia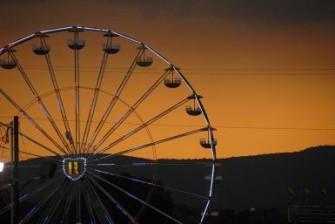 There's something special about a good old-fashioned county fair. The counties of Maryland and Virginia that surround Washington, DC each host a summer fair, complete with carnival rides, live animal shows, musical entertainment, arts and craft exhibits, and lots of food. Each county fair has its own specialty, so check out the scheduled events before you go.
In Maryland
Howard County Fairgrounds, 2210 Fairgrounds Rd. W., Friendship, Maryland. (410) 442-1022. Carnival rides, live music, farm animals, food.
Montgomery County Fairgrounds, 16 Chestnut St., Gaithersburg, Maryland. (301) 926-3100. Livestock competitions and displays, monster trucks, lots of entertainment and food.
Prince George's County Equestrian Center and the Showplace Arena, Water St., Upper Marlboro, Maryland. (301) 579-2598. Carnival rides, live animals displays, family circus, fireworks, live entertainment, food.
Anne Arundel County Fairgrounds, Generals Highway, Crownsville, Maryland. (410) 93-3400. Monster truck rides, carnival rides and games, farm animals and exhibits, pig races, antique saw mill, pie eating contest, talent show and much more.
Charles County Fairgrounds, 8440 Fairgrounds Road. La Plata, Maryland. (301) 932-1234. Farm animals, displays, demonstrations, food, entertainment, carnival rides, games and activities for all ages.
Frederick Fairgrounds, 797 E. Patrick St., Frederick, Maryland. (301) 663-5896. Musical entertainment, tractor pulls, equine expo and showcase, agricultural events, food.
In Virginia
Fauquier County Fairgrounds, 6209 Old Auburn Road Warrenton, Virginia. (540) 341-7950. Livestock, rabbits, poultry, produce, homemade arts and crafts, animal shows, contests, games, demonstrations, homegrown dinner and music.
Loudoun County Fairgrounds, 17564 Dry Mill Rd., Leesburg, Virginia. (703) 777-3835. Carnival, rodeo-bull riding, farm animals and demonstrations, magic acts, live musical entertainment and food.
Frying Pan Park, 2709 W. Ox Rd., Herndon, Virginia. (703) 324-5203. Farm animals, children's rides and a pie-eating contest. Free Admission.
Thomas Jefferson Community Center, 3501 S. Second St., Arlington, Virginia (703) 920-4556. Pig and goat races, pony rides, carnival rides, international foods, crafts. Free Admission.
Prince William County Fairgrounds, Rt. 234, Manassas, Virginia (703) 368-0173. Virginia's largest county fair. Carnival rides, barn shows, live entertainment and attractions for all ages.
Sorry we are experiencing system issues. Please try again.