Make your Kitchen BIG for the Holidays- 6 Tips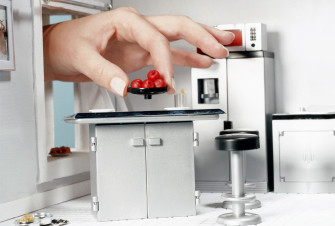 With Thanksgiving around the corner, odds are you'll soon be spending plenty of time in your kitchen. (Maybe even way more then you want!) Adding to the holiday stress levels: if your culinary workspace is tight, turning out meals for a crowd may be a real challenge, especially with more helpers (aka family members) around. Don't panic! You still have time for some kitchen-organizing hacks that can bring some order to the chaos. Plus, you can get inspiration for how to maximize your small space for next year.
1. Plan Where Everything will Go
Before you head to Williams-Sonoma and start swooning over gravy boats shaped like roasted turkeys, take stock of what you already own and plan out how you'll organize everything.  You may have to do a holiday-specific reorg—as usual, the items you'll use most (such as dishes, cups, and mixing bowls) should be within arm's reach, but you'll also need to get out your heirloom casserole dishes and other items for serving. After the big meal, those special-occasion dishes can go back into storage where they'll be safe but won't get in the way of your daily routine.
You'll also want to limit the number of small appliances (just stick them in a closet, if there's nowhere else) on your countertops, to free up prep space. And again, when the festivities are over, you may want to rethink what you put back out. The Keurig you use daily? Yes, that can remain. The dusty waffle maker you got as a wedding present and haven't used since 2009? Say adios!
2. Pimp Out your Cabinets with Custom Inserts
Whether you inherited an antique kitchen with equally outdated shelving or you're starting from scratch, it's smart to buy custom inserts to organize each nook and cranny. You'll be able to put away more things—without putting them out of reach.   Sometimes store-bought cabinets come with weak shelving and inserts that don't last, so it's best to buy those items separately. Position like items such as dishes, bowls, and cups close together to make them easy to access, and use the inserts to store all of your small appliances, spices, and other necessities to keep them out of sight and off your counters.
3. Invest in New Appliances
Switching out appliances is one of the easiest ways to bring style, increased efficiency, and a higher resale value to your petite kitchen. Although stainless steel has been the preferred choice for the past decade, white appliances are coming into vogue. Certain sizes are considered the standard, but you can opt for smaller appliances to gain more storage inches in your cabinets. Just pay attention to the height, width, and depth. Most modern appliances are deeper than what you probably have now, and you don't want new appliances to stick out past your countertops.
4. Go Easy on Color
 If you want to add a touch of style, just know that small kitchens are not the place to let loose with dramatic hues. Choose a more subtle color. Just like with other small spaces, keep darker colors at the bottom of your kitchen and use lighter shades higher up. More and more homeowners are opting to paint lower cabinets a darker shade, like gray, and the uppers with a creamy white for contrast. The effect is dramatic: It brings the eye up and makes your kitchen appear more spacious. That said, be careful with the backsplash, which is already in shadow. A white subway or hexagon tile goes flawlessly with most kitchen designs instead of dark granite or mosaic tile. Adding a backsplash is an inexpensive and dramatic way to add some visual pop, as long as you keep colors neutral.
5. Open Up your Space with Light
Your kitchen is no place to skimp on lighting. Use bright lights over workspaces. If you're blessed enough to have an island, invest in a showstopper light fixture. Recessed lighting for the rest of the kitchen works fine, but track lighting is even better. If you put a track in a suspended rectangle junction box in your kitchen, you can have up to 12 lights on one track and point them at different areas in the kitchen. It is less expensive than installing several fixtures that each require their own junction box.
6. Give Old Cabinets and Countertops New Life
Don't have the funds for a complete gut and reno? No worries: You can transform your outdated cabinets with paint. Another low-cost, eye-popping transformation is to change out or add new knobs or pulls which can update the look of your kitchen without breaking the bank.
-From Realtor.com