Household Management: 4 Apps to the Rescue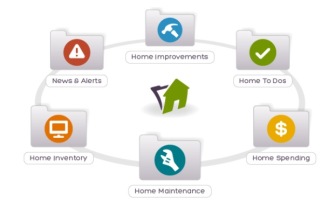 Using technology to help manage the household can add up to a good amount of time and money saved—not to mention a significant reduction in things (paper calendars and planners) and clutter (all those papers!). Here are the top four apps our clients hate to live without.
Perfect Your Budget with YNAB
YNAB stands for "you need a budget." And lets just say: You do.  Give YNAB a whirl. It is AWESOME.  It is seriously life-changing and you really really wouldn't want to be without this program. (The app is a way to enter items on the go, which will sync with the full-feature software on your computer.) The software is a $60 one-time fee, with optional paid upgrades when they are available. Worth every single penny and will pay for itself in the first month.
Conquer To-Dos with 2Do
Though others might be more popular, 2Do has worked best for families we asked. There were certain features, like being able to attach hand-written notes that made 2Do a good fit. When it comes to deciding what goes on a to-do list versus on the calendar, this works time-dependent items like appointments and due dates go on the calendar while non-time-dependent items like booking an appointment or mopping the floor work best on a to-do. Weekly cleaning tasks are indeed stored in 2Do. Unfortunately, it looks like the developers are tapering off support on the Android version, though a brand new iOS update has been released.
Meal Plan and Make Grocery Lists with Plan to Eat
Speaking of saving money and time — I want to shout from the rooftops about Plan to Eat.  Plan to Eat does it all when it comes to every aspect of with meal planning: recipe storage and sharing, putting meals on the calendar, and generating a shopping list. There's even a "freezer" feature that enables you to keep track of freezer meals. You can change quantities of every recipe, you can save entire menus to use again, you can even keep track of how much various meals cost! Adding recipes from online is as simple as the click of a button. Plan to Eat is $40 per year and unquestionably worth it.
Conquer Paper Clutter with Evernote
Evernote can be used in so many inventive ways, but mostly to store informational stuff rather than keeping it physically. My daughter's kindergarten daily schedule, flyers about summer camps, even coupons are "filed" in Evernote, and only take up virtual space. The best thing about it is that one can find the information when they want it! Tagging makes searching on Evernote powerful. Built-in OCR  (optical character recognition) capabilities even let you search text within an image. This is technology making our lives easier at its finest. So even if you threw an image of a Best Buy receipt into Evernote and  forgot to title or label it, a search for "best buy" will yield what you're looking for because the name of the store is on the receipt. Regular Evernote is free; premium is $5 a month.
-From ApartmentTherapy.com
Sorry we are experiencing system issues. Please try again.