House Flipping: Harder, but More Lucrative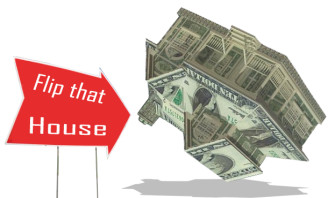 The real estate market is once again in transition. Cash investors are beginning to fade, opening the door for more traditional home buyers, while fast-profit flippers are finding the deals harder to come by – but more profitable than ever.  Home purchases made with all cash, representing mostly deals made by investors, fell in the first quarter compared to a year ago in a majority of the metro areas surveyed by Zillow. Houses priced in the lowest-third of all homes available are most attractive to cash buyers.
Considering the top 30 largest metros, the share of cash buyers was highest in Miami (64.9 percent); Tampa, Florida (57.1 percent); and Cleveland (54.2 percent). Large metros with the lowest share of all-cash sales in the first quarter were Virginia Beach, Virginia (17.4 percent); Denver (22.4 percent); and Portland, Oregon (22.9 percent).
Even as the share of all-cash sales falls in many areas, it's pretty clear that cash is still king, especially at the lower end of the market. It can be difficult for more traditional buyers to compete with cash offers, especially in a tight inventory environment and among cash-strapped first-time buyers most likely to seek lower-priced properties. Housing is much more than an investment for most buyers, and it's heartening to see more buyers armed with traditional financing begin to enter the market. This is a critical step on the way back to a more normal, balanced housing market.
Investors looking to flip houses may be finding the deals harder to come by, but their efforts are more profitable than ever. Homes purchased and then sold again within 12 months went for an average of $90,200 in 2013, significantly higher than the $71,800 average sales price of 2012 and the previous peak of $82,800 during the last housing boom. While rising home prices spurred big scores for flippers last year, the number of homes sold in quick turns fell fall short from the record sales of 101,800 homes in 2005. But more than three quarters (77 percent) of homes flipped last year were sold for a gain, while in 2008 roughly the same percentage were sold for a loss. In 2008, only 24 percent of flipped homes were sold for a gain. Selling a house for a gain on the purchase price is not comparable to a profit, as most flippers make improvements to properties, adding to their cost.
In 2005, homebuyers could easily access zero-down financing, which led to heightened activity from amateur investors who bought several homes without any up-front costs and who planned to resell them at a profit. When the market crashed, those buyers were left in a lurch. Today, with low inventory, high demand and stricter mortgage standards, flippers are largely developers, corporate investors and all-cash buyers who are experienced and can act quickly to snatch up properties with flip potential. Unfortunately, high demand and low inventory have also limited the ability of average homebuyers to use sweat equity to renovate a property over several years and make a longer-term financial investment in a home.
The hottest neighborhoods for flips, based on average profits, were Petworth in Washington, D.C. ($313,400); Beaumont in Portland ($285,600); and Brookland, also in Washington, D.C. ($271,900). Rounding out the top five hottest neighborhoods were Mid-City ($239,900) and Mount Washington ($236,300), both in the Los Angeles area.
From MSN Real Estate