Great Summer Books for Teens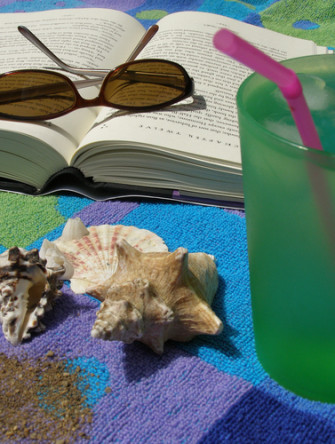 As the long lazy days of summer knock at the door, most parents search for the perfect summer read for their days spent at the pool or on their summer vacation.  What about our children?  Some children are born book worms, others need a gentle push to turn the pages.  Whichever style of teen you have, here is a list of 10 books for teen boys or girls.
Top 10 Summer Reads for Teen Boys
1.

Malice
The line between reality and fiction is blurred in this unique story by master storyteller Chris Wooding. Written as a combination of graphic novel and traditional print, readers can follow Seth and Kady into a comic book world ruled by the sinister, Tall Jake.  The big question for readers is: once you go into the comic book, can you ever come out? Recommended for ages 12-18.
2.

Leviathan
Award winning author Scott Westerfeld creates an alternate reality of World War I in this biology versus technology tale.  Two teens that are supposed to be enemies, a girl disguised as a British airman, and a prince on the run, cross paths and find themselves sailing on the airship Leviathan. The black and white illustrations by Keith Thompson help readers visualize the alternate world. Recommended for ages 12-14.
 3. 

The Ruins of Gorlan (

The Rangers Apprentice, Book One)
Legions of readers are following the adventures of 15 year-old Will who battles fantastical beasts and evil warlords trying to take over the kingdom. Author John Flanagan continues to entertain his fans with this long running series of the adventures of a shy boy who becomes a hero.  Recommended for ages 12-14
4. 

I Am Number Four
Action and adventure are non-stop in this science fiction novel.  Nine teens from the planet Lorien come to Earth to train and develop their powers in order to take back their planet from the destructive Morgadorians.  Teens who want a quick read that's exciting and easy to follow will enjoy reading this first book in what is sure to be a popular series.
 5.

 Gone
Everyone over fifteen is disappearing in Sam's town and the ones left behind are turning to him for help. In this story, teens must unite and find a way to rule themselves while preparing to battle supernatural elements. Teens will enjoy this story of reluctant heroes, rivalry, and revenge by Michael Grant. Recommended for ages 14-18
6.

 Pluto
Well-known manga artist Naoiki Urasawra has created a dark retelling of the popular comic "AstroBoy-The Greatest Robot on Earth" originally written by Osmau Tezuka.  In this science fiction story about man and machine, Detective Gesicht must solve several robot murders. The American Library Association ranked Pluto as one of the top ten teen graphic novels for 2010. Recommended for ages 14-18
 7. 

The Enemy
Buckingham Palace becomes a refuge for kids fleeing zombie infested London.  In yet another fast paced futuristic thriller, readers are caught up in the action and intensity of teens trying to survive as a horrible disease sweeps across England.  Author Charlie Higson, well-known British actor and comedienne, is also the writer of the highly successful Young Bond series. Recommended for ages 14-18
8. 

Revolver
"Even the dead tell stories." In the tradition of Jack London and Gary Paulsen is a new book by Marcus Sedgwick set amidst the gold and greed of the Alaskan gold rush.  Sig is alone and isolated in the Arctic with his father's frozen corpse when a stranger comes to the cabin demanding his share of some stolen gold; Sig's only protection is a revolver. Written in short chapters and wrapping up in 203 pages, Revolver has just the right elements to satisfy a teen reader. Recommended for ages 12-18
 9. 

Ship Breaker
This novel portrays a futuristic world destroyed by global warming. Nailer, a 17 year old ship breaker, must scavenge among ancient oil tankers looking for copper and other treasures to sell. Author Paolo Bacigalupi has created an award winning novel that invites teens to explore environmental issues, and to think about how their choices today can affect future generations.
 10. 

The Maze Runner
If your teen liked The Hunger Games,  then he's bound to like The Maze Runner  by James Dashner. In this sci-fi thriller,  a group of teen boys who don't remember their past are locked together in a maze with nightmarish creatures.  Hope is nearly lost until the arrival of a comatose girl bearing an alarming message. Will the teens escape the maze? Dashner keeps readers running until the last page. Recommended for ages 14-18.
Top 10 Summer Read for Teen Girls
1. The Truth About Forever
Macy Queen believes that keeping her life organized and predictable will help her deal with the loss of her father. However, when her safe boyfriend breaks up with her, she decides to start taking chances beginning with an impulsive decision to get a summer job with a small catering company. With a cast of quirky and endearing characters, popular contemporary teen writer Sarah Dessen delivers a winning story about love and the power to heal.  Recommended for ages 14-18.
2.  The Angel Experiment
In a lab called "The School" experiments are conducted that genetically alter kids and give them special abilities.  Fourteen year old Max and her "family" were all created to fly, but now they must escape the lab to save one of their own. In order to stop the teens from revealing their experiments, scientists from the school release the Erasers- half wolf half human mutants to hunt Max down. This fast paced story is extremely popular with teens and is the first book in the Maximum Ride series by James Patterson. Recommended for ages 12-18
3.  Revolution
Award winning author Jennifer Donnelly has created a lush historical novel where the lives of two teens spanning two centuries are intertwined because of a diary.  Andi, a brilliant guitarist, is forced to accompany her father to Paris when she is expelled from school. While there she discovers the diary of Alexandrine, a young girl who lived during the French Revolution and finds a connection with the girl who lived two hundred years earlier. This is a wonderful novel rich in historical detail and emotion.  Recommended for ages 14-18
4.  The Agency: A Spy in the House
In Victorian–era London a thief must hang. At twelve, Mary Quinn is sentenced to hang for stealing until she's secretly rescued by a member of the covert spy group called The Agency.  Working under the guis of Miss Scrimshaw's Academy for Girls, the all female agency trains young females to be spies. Mary's first assignment is to disguise herself as a lady's companion and uncover the mystery of some disappearing cargo ships. This wonderful book full of romance, mystery, and vivid Victorian era detail is by Y.S. Lee.  Recommended for ages 12-18
5.  Voices of Dragons
Kay lives in an alternate 21st century where humans and dragons share a border. For the last 60 years a fragile peace has existed between the two species. When Kay is rescued from nearly drowning by a dragon, a friendship is formed that when discovered will break the treaty and spark a new war.  This fantasy is by Carrie Vaughn. Recommended for ages 12-16
6.  Crossing the Tracks
Rural Mississippi 1926 is the setting for this sweet coming of age story about a fifteen year old girl learning what it means to come home. When her mother dies, Iris is sent away by her father to become a companion to an elderly woman. While taking care of the elderly woman and helping her son, Dr. Nesbitt, Iris is drawn into a community where she learns more about personal strength and compassion. The author of Crossing the Tracks is Barbara Stuber.  Recommended for ages 14-18
7.  Graceling
Girl power. Katsa is a warrior girl who was born with a graceling. Her graceling is the gift of great strength and the ability to fight. When the king learns of Katsa's gift he manipulates her into using her abilities to destroy his enemies. In her heart, Katas knows her gifts are meant for greater purposes than killing. With detailed action scenes and a budding romance, readers who love fantasy and strong heroines will enjoy this well written and award winning story by Kristin Cashore.  Recommended for ages 14-18.
8.  Across the Universe
Science fiction, romance, and compelling political issues come to light in this dystopian novel by Beth Rivas about leadership and exploration. Seventeen year old Amy and her parents volunteer to be frozen in time for 350 years aboard the ship Godspeed in order to help establish a community on a distant planet. Plans go awry when someone tries to murder Amy and she is awoken fifty years before schedule. With the help of a boy named Elder, Amy begins to discover that all is not what it seems aboard the ship called Godspeed. Recommended for ages 14-18
9.  Delirium
In Lena Haloway's society love is a disease.  Trained to believe that love is dangerous and the cause of much physical and emotional pain, members of the community are required to undergo a surgical procedure when they turn 18 to remove the deliria. Lena is nervous and excited about the procedure until she meets Alex, an outsider, and begins to doubt what she's been taught about love.  In this dystopian romance, Lena must look at her world from a different perspective and decide if love is worth the risk of defying her society. The author ofDelirium is Lauren Oliver.  Recommended for ages 14-18
10. Twenty Boy Summer
Anna's romance with Matt, her best friend Frankie's brother, is a secret they both keep until tragedy strikes.  As summer begins Frankie suggests each girl date twenty boys so Anna can get her first kiss not knowing her best friend is harboring a painful secret. This sweet story by Sarah Ockler is a must read for Sarah Dessen fans. Recommended for ages 14-18.