Black Friday Beckons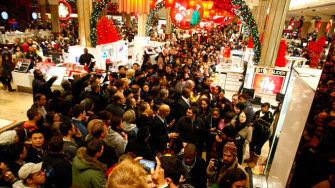 Are you headed out for some Black Friday shopping this year?   You can score some really amazing deals.  So, if you are motivated enough to get out there, here are some tips to make sure you save the most cash and score the biggest stash!
Plan of attack.  Thursday night after the festivities, grab the ads, a fourth piece of pie, and get a plan of attack.  Compare the best deals.  If some deals you want are only available early in the morning, plan to make those your first stop.
If you plan on buying a big ticket item, research a little before hand.  Check out reviews on the internet.  Check out prices for that matter.  It may not be the "score" you think it is–or it might actually be worth bundling up and standing in line.
Don't forget about online deals.  Most stores offer "Black Friday" deals online that you can pick up at the store later–like after the crowds have died down and you've had coffee.
Bring the ads with you.  Stores that have a lowest price guarantee may want you to show them the ads of the competitors.
Throw an envelope in your purse for receipts.  It's so much easier to keep them all in one place than to dig them out of bags later when  you want to make a return.
Know the store policies.  They may have strict return policies and/or exchange policies, making that rock bottom price a waste of money if you change your mind.
Pack a snack.  This is just a basic principle I live by.  Throw a little something in your purse.  Lines are long, it's crowded, there is no reason to add being hungry to your list.  Make your own coffee, tea, etc. that day too.  The lines to buy it just aren't worth it.
Good luck; and happy hunting!