Weekend Warrior: 9 Best Weekend Trips from the DC Area

Annapolis, Maryland
Distance from DC: 32 miles; 1-hour drive
Why: Boats for DAYS, the gravitas of the Naval Academy, and a host of tasty treats
Three things to do while you're there:
1. Take a water taxi to Eastport and down farm-to-table pizza at Vin909.
2. Get nautical by using AirB&B to stay on a boat. Or, if you're loaded, learn how to sail in one weekend.
3. Go on a bar crawl and hit up Dry85 for whiskey flights, Level for creative cocktails, BAROAK for beer, and Red Red Wine Bar for wine (duh).
Charlottesville, Virginia
Distance from DC: 117 miles; 2.5-hour drive
Why: This cozy town is part-historic and part-hospitality, because it serves as a launch point to check out some of Virginia's best wineries. Its college-town status means top cheap eats too.
Three things to do while you're there:
1. Take on the Monticello Wine Trail featuring 20+ wineries. There are plenty of transportation companies ready to transport you safely from vineyard to vineyard. Early Mountain is a can't-miss with its outdoor movies, live music, and dog friendly 'tude.
2. Pony up for a one night's stay at The Clifton Inn, and arrange to have dinner there. It lacks the creepy factor some B&Bs take on (innkeeper jokes about creaky headboards).
3. Hit Ace Biscuit & Barbecue for breakfast, because there's nothing like a fried chicken-, sausage gravy-, dill pickle- & smoked pimento cheese-topped biscuit for a slim $7.
Philadelphia, PA
Distance from DC: 138 miles; 3-hour drive
Why: A food-centric city with a let's-party attitude served alongside history and quirky sights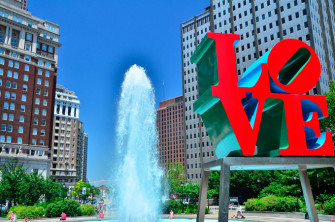 Three things to do while you're there:
1. Resist the urge to visit a cheesesteak joint that will leave you greasy and full of Cheez Whiz-stained regret and get a Tommy DiNic's roast pork sandwich inside the Reading Terminal Market. Or make a waistband-expansion splurge at Federal Donuts.
2. You can swing by the Philadelphia Museum of Art to grab quick selfie with Rocky and run up the stairs like chump tourist, OR you can visit a weird treasure — The Mütter Museum — filled will medical oddities.
3. Snag a table at one of Kevin Sbraga's restaurants. The most compassionate guy to ever win Top Chef now has three spots: The Fat Ham, Sbraga, and Juniper Commons.
Sperryville, Virginia
Distance from DC: 75 miles; 1.5-hour drive
Why: Prime access to Skyline Drive and Shenandoah National Park meets small-town charm
Three things to do while you're there:
1. Stay the night at Hopkins Ordinary, a food-centric B&B that's the perfect jump-off point for exploring. Dine al fresco across the street at the Thornton River Grille. The Inn at Little Washington's a short drive away, if that's more your thing.
2. Visit Copper Fox Distillery for a tour (offered every day). Learn how Rick Wasmund and his team make their single malt whiskey, rye, and gin. Then go home with a barrel kit.
3. Check "hike Old Rag" off your bucket list. It's the kind of hike that involves using your hands and legs (read: rock scrambles) so leave Nana at home.
St. Michael's, Maryland
Distance from DC: 79 miles; 1.5-hour drive
Why: The entry point to Maryland's Eastern Shore is full of personality and crabs
Three things to do while you're there:
1. Channel Chazz and treat yourself to a pit stop at The Inn at Perry Cabin by Belmond where Wedding Crashers was filmed. Have a snack at Purser's Pub, like Blue Bay mussels in steamed in Dogfish Head 60min IPA, then stroll the grounds.
2. Visit local breweries and distilleries for tastings, including Lyon Distilling Company and Eastern Shore Brewing. Once ravenous, stop off for crabs at The Crab Claw or St. Michael's Crab and Steak House.
3. Rent some kind of vessel from Shore Pedal & Paddle and get out on the water.
Western Pennsylvania (Mill Run/Farmington)
Distance from DC: 186 miles; 3.5-hour drive
Why: It's possible to combine outdoor adventure and a spa retreat with a visit to Falling Water
Three things to do while you're there:
1. Book a stay at Nemacolin Woodlands Resort and take advantage activities of that will remind you of Camp Anawanna: a ropes course, zip-lines, clay-pigeon shooting, off-roading, paintball, and more. A sweet spa will help you get cleaned up.
2. Frank Lloyd Wright's famous Falling Water is 20 minutes away. Schedule a guided tour of the trippy, nature-inspired design and décor. Pro tip: up the road is a lesser-known FLW house dubbed "Kentucky Knob."
3. Have a cigar and a brown liquor nightcap at Nemacolin's cigar bar. The manvironment created by leather sofas, dark wood, and a big fireplace will make you feel like The Most Interesting Man in the World.
Richmond, Virginia
Distance from DC: 108 miles; 2-hour drive
Why: Frommer's told us what we already knew when they named Richmond a top worldwide destination in 2014 because of its thriving restaurant & craft brew scene, history, and great outdoor activities
Three things to do while you're there:
1. Visit top breweries starting with Lickinghole situated on an enormous farm. It has unique brews like Redneck Soap Opera aged in a rum barrel. Next, visit Strangeways Brewing, which always has 25 funky beers on tap.
2. Check out Church Hill by bike thanks to Richmond Rides. The $45, two-hour tour includes stops for snacks. Then shoot up to Perly's Restaurant and Delicatessen for mind-blowing pastrami.
3. Get a gourmet grip on the food scene by snagging a table at Heritage (pork fries!) or L'OPOSSUM, which has crazy dishes like "Polyamorous Hippie Three-Way" and "Hollywood Bone Yard."
Chincoteague Island, Virginia
Distance from DC: 170 miles; 3.5 hour-drive
Why: The quieter side of the Eastern Shore is also the prettiest. And not just because of the ponies.
Three things to do while you're there:
1. Your playlist should include The Stones because you're about to see some Wild Horses at the Chincoteague National Wildlife Refuge. This is a highly Instagrammable moment, so trust Captain Dan.
2. Make a quick drive to try Smith Island Cake; it'll ruin birthdays for you for the rest of your life.
3. Have a super-casual meal at Woody's Beach BBQ. "The Pittsburgh" combines pulled pork, fries, slaw, and red sauce on a bun.
Lewes/Rehoboth Beach, Delaware
Distance from DC: 121 miles; 2.5-hour drive
Why: A sandy beach to help with your tan, plus lively nightlife and restaurants on the rise
Three things to do while you're there:
1. Stay at the Dogfish Inn in Lewes. The local beer-themed inn was designed by Brooklyn hipsters, so expect some iconic Americana that will remind you of the movie The Endless Summer. If you want more Dogfish Head, visit the brewery in Milton.
2. If you're going to do the whole boardwalk-nostalgia thing, do it in Rehoboth. Skee-ball, Grotto Pizza, and frozen custard don't have to remind you of Snooki. But your best lunch bet is waiting for the Taco Reho truck to come around.
3. Park it at the Henlopen City Oyster House for dinner, because the sea breeze has you craving briny bivalves and po' boys. Stop by Royal Treat Breakfast & Ice Cream Parlor for a banana split dessert.
*information provided by http://www.thrillist.com/entertainment/washington-dc/weekend-trips-from-washington-dc