8 Tips to Pet-Friendly Decor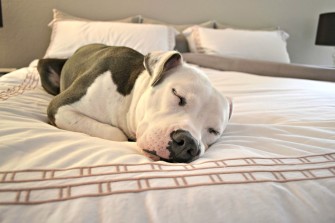 It can be quite a struggle to keep a home clean with pets. With proper design planning, you can cut down on the frustration associated with pet hair, dirt and damage to your home! Here are 8 tips to Pet-Friendly Decor!
Don't buy expensive rugs
Yes, you can use rugs. The trick is to buy inexpensive ones. Unlike carpet, rugs can be picked up and cleaned or thrown out. Sisal or seagrass mats are a good choice, because they provide an elegant, neutral backdrop that will go with any decor. They're durable enough to withstand pet traffic, and they're cheap enough to toss when they get grungy. Got an incredible heirloom Persian rug you absolutely cannot live without? Treat it as art and hang it on the wall!
Skip wall-to-wall carpet
Carpet absorbs odors, traps pet hair and soaks up inevitable pet-related stains like a sponge. If you must have carpet, choose a low pile and avoid continuous-loop carpet because a pet toenail can unravel it by catching a single woven loop.  Or try modular carpet tiles, if a dog pees or a cat vomits, you can pull up the dirty tile and replace it with a new one. It's much cheaper than replacing an entire rug. Bare floors are the way to go, but bare doesn't have to be boring. Painted concrete is lovely and durable, as are terrazzo and brick. Hardwood floors are simple to mop or vacuum and add a warm glow to a room, but keep in mind that large dogs can scratch wood. The best floor is ceramic tile because it's easy to clean and resistant to any stain an animal can dish out. Tile is toenail-proof, makes a room look sleek and elegant and gives furry animals a cool place to nap during hot weather. Porous materials like marble or other natural stones aren't as pet-proof as other hard surfaces, since acids present in pet spit-up can stain them, even if they're sealed.
Don't decorate with breakable knickknacks
Fragile items and animals don't mix. One bat of a dog's tail or swat of a cat's paw will send your collection of Will-George flamingo figurines skittering across the room like bowling pins. Display fragile valuables in a china cabinet with glass-panel doors. Spend your decorating dollars on framed prints, photos and paintings.
Use semigloss wall paint
Even if your pet goes to the groomer regularly, he or she will still leave smudges on walls and door jambs. A basset hound can sling drool across a room and onto a wall with a shake of his head, and a parrot can fling all sorts of goo out of his cage and onto the wall. Flat-finish paint is nearly impossible to clean; try to wipe off a dirty spot and some of the paint comes off as well, leaving an unsightly mark that must be repainted. Semigloss is the easiest to wipe down, but its sheen will call attention to every ding and irregularity in your walls. Satin or eggshell finishes are more elegant and as easy to clean as glossier paint.
Use stain-resistant fabrics
Forget silk, chintz or the pet-hair magnet known as velvet. Discover the joys of Crypton, a nearly indestructible synthetic fabric that's resistant to stains, smells, bacteria and muddy paws.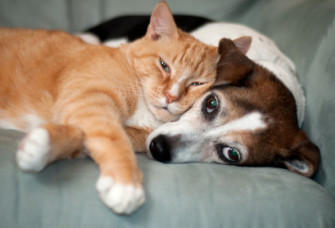 William Wegman, the artist known for his Weimaraner photos, has designed a line of Crypton fabrics aimed at pet-obsessed style mavens that includes sturdy suedes and twills with names like Polka Dog and Material Dog. It's available in upholstery shops and from many furniture manufacturers and interior designers; you can find it online at www.cryptonfabric.com. Leather is a good choice, easy to clean and durable. Most grades of leather will suffer only scratches from Fido or Fluffy's claws but, hey, the scratches add patina. If you see a sad irony in buying a sofa made from an animal for your animal, try pleather. It's cruelty-free, relatively inexpensive and has a timeless appeal. Then there's Ultrasuede, a machine-washable microfiber that feels as smooth and seductive as real suede. It's beautiful, and it always stays cool and comfortable, no matter the climate. That's important for your and your animal's comfort.
Put washable fabrics on your bed
If your dog or cat sleeps with you, there will be accidents. Protect your mattress from the inevitable by covering it with a thick pad. Use cotton bed sheets, preferably in a medium color or a pattern that can hide the pet hair and stains between washings. For bedspreads, duvet covers work well because you can take them off and wash them regularly. Delicate-looking matelasse coverlets are surprisingly durable; their tight quilting resists pet-toenail snags and repeated washings.
Vacuum regularly
Even if you match your chaise to your Siamese so perfectly that the hairballs are barely visible, vacuum kitty's hair off the furniture at least twice a week. You may need to vacuum daily when your pet is shedding. Pet hair has an odor and it contains an oil that will attract dirt to the fabric on which it sits.
Sorry we are experiencing system issues. Please try again.