6 Things Home Owners and Buyers Should Watch for this Spring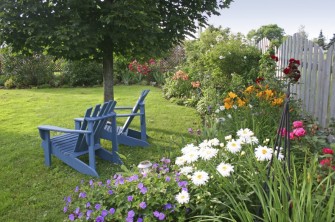 The U.S. economy is off to a bit of a rocky start in 2014, something that might actually benefit homebuyers this busy spring homebuying season. The unsteady – and frankly, at times unpredictable – economy has allowed mortgage rates to hit yearly lows as recently as the first week in March. But just as the economy seems to be taking a turn for the worse, surprisingly positive figures (see the February job numbers) send mortgage rates higher. Regardless of the turbulence, interest-rate conditions are expected to remain quite favorable this spring.
What is anticipated to negatively impact home seekers in the coming months is housing inventory. No stranger to the headlines, limited inventory has been stymieing homebuyers for a while now. Improving home prices throughout 2013 and the prospect of moderate price growth throughout 2014 will allow some owners to put their homes up for sale, but many are predicting the pickings to remain rather slim. With the wicked winter weather behind us (hopefully), the market needs a jump-start, and perhaps warmer temperatures will do the trick. But can warmer temps thaw strict lending standards? With the new federal regulations just underway, it's unfortunately too early to say.
This is going to be an interesting spring for borrowers. Will there be enough quality, nondistressed homes to compete with demand? Will lending conditions ease enough to accommodate the nation's underserved mortgage borrowers? Will investors continue to have a strong presence within the marketplace? Can young homebuyers overcome common obstacles to reclaim their share of the market?These are all questions that will be answered in time. In the meantime, if you're in the market for a mortgage this spring, here are some of the most important trends in the current market and how you can make them work to your advantage.
Mortgage Rates to Remain Historically Low
No shocker here. While mortgage rates are expected to rise throughout the year, they not only will remain historically low by the time 2014 comes to an end but also will be much lower by comparison during the spring buying season.  The theme here is simple, and one that should remain constant for some time to come: When the economy falters, mortgage rates tend to ease off. When the economy grows – when we see strong job numbers and a growing gross domestic product, for example – mortgage rates will firm. A lot of factors come into play when predicting mortgage-rate movements, making it no easy task – especially over an entire year.
Limited Housing Inventory
As we mentioned in the introduction, higher home prices will encourage more sellers to list their homes for sale. That said, market observers do not expect home-price gains to match those of 2013. With higher home prices comes the return of home equity. As equity returns, the fear of having to sell your home at a loss abates.   Now for some good and bad news … While foreclosure numbers continue to improve, the reduction in distressed sales is another factor limiting available inventory this year. Finally, so far a bright spot for the housing market has been new-home sales. Construction of new homes will add to inventory levels and could be a savior in some local markets.
Online Home Shopping Grows
By now, the Internet is nothing new in the world of real estate. In 2013, the National Association of Realtors reported that 90 percent of homebuyers took to the Internet at some point during the purchase process. Shopping for a home online is not particularly difficult, but each of the major home-listing websites displays its information a little bit differently. Some even have different information than others. The bottom line is that not every site is the same and you need to know where and how to find the information that matters most to you.  Traditional home-listing websites aren't the only places on the internet to find the home of your dreams. Most recently, homebuyers have taken to Pinterest to shop for homes. Pinterest is one of the fastest-growing social-media and photo-sharing websites on the Internet, and some agents are advising their clients to use it to their advantage. It's good for people who are moving in from out of state. You can get information about local schools, welcome areas and places like that.
Alternatives to Conforming Loans
Government regulators have put a lot of emphasis on ensuring that a "plain vanilla" mortgage product is front and center in today's mortgage market in order to alleviate the risky lending practices that contributed to the Great Recession. FHA mortgages, while considered safe (they are insured by the federal government after all), are a viable alternative for borrowers who can't meet the strict down payment and credit-score requirements of other loans. Additionally, adjustable-rate mortgages offer a viable alternative to the 30-year fixed rate. ARMs tend to gain popularity in periods of rising interest rates. ARMs traditionally represent only a small portion of the mortgage market. While applications for ARMs have increased slightly in the first few months of 2014, they still represent just 8 percent of total applications, according to the Mortgage Bankers Association.
Paperwork Requirements Grow
While it remains to be seen if 2014 will be "the year of the ARM," this year, like the last few before it, could be considered "the year of the documentation." Mortgage experts say that if you've applied for a mortgage in the past few years, documentation requirements shouldn't come as a surprise. But if 2014 is your first foray into the mortgage experience, the requirements could come as a shock. The qualified-mortgage rule, which took effect in early January, makes the collection of your asset documentation as important as ever as lenders seek to meet the requirements by diligently collecting and analyzing your paperwork to ensure you qualify for and can repay your mortgage.
These are really common-sense rules. The new rules say that mortgage lenders are no longer allowed to throw out the common-sense standards of lending money during boom times, when they might be tempted to overlook long-term financial goals for quick profits. If the rules help that happen, they'll be a good thing.
Refinance Opportunities Dwindle
If you are a homeowner who hasn't had a chance to refinance yet, or maybe you're interested in refinancing again, 2014 will still present some opportunities but you need to be prepared to pull the trigger when an opportunity presents itself. While mortgage rates are expected to trend upward in 2014, the economy remains unbalanced enough for mortgage rates to dip in an otherwise rising environment. Homeowners who want to refinance in 2014 will have to "refinance on the dips." We've taken the well-known investment strategy of "buying on the dips" and applied it to mortgage borrowing. The best advice for a rate-sensitive refinance customer is to go ahead and begin the underwriting process and then ask your lender to set aside your loan application until a date when mortgage rates are down.