5 Gift Ideas You'll Feel Good About Giving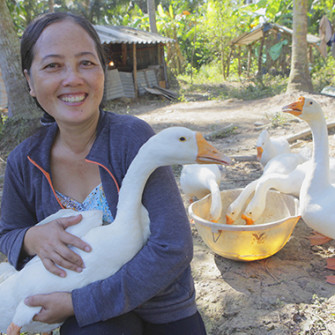 Another neck tie, another holiday sweater, another pair of slippers, all tried and true gifts, but they lack thought.  With the holiday season near, and so many countries enduring trying times, give sustainable, fair trade gifts that help communities fight their struggles. These are great gifts you will feel good about giving.  And the recipients, both far and near will reap its rewards.
Flock of Geese from Heifer International
This gift provides a family with a starter flock of several geese. Your donation will also provide training and education in the birds' care. .A flock of geese makes a great gift because they provide much needed nutrition for hungry children, produce manure for gardens, boosting crop yields, and promote security for others by multiplying quickly therefore passing on the gift.  Geese can lay up to 75 eggs a year, so the benefits add up quickly for families in need of protein and a means of income. Your gift of geese grants the opportunity to lift a community out of hunger and poverty.
Help Build a School with Pencils of Promise
Pencils of Promise founder Adam Braun started his company while backpacking around the globe handing out pencils to kids. Today, Pencils of Promise is focused on building schools for the 75 million kids around the world who don't have access to an education. The pencils are no longer free, but Braun's dedication to his cause is clear: 100 percent of Pencils of Promise's proceeds go toward building schools.
Empower Struggling Women with Krochet Kids
Krochet Kids mission is to help impoverished communities in Peru and Uganda rise above poverty by creating sustainable economies. Three high school friends (all boys!) learned crocheting in high school, then traveled to Uganda post-college to teach the skill to women in struggling areas. The hats, scarves, and headbands make great gifts.
See a New World with Toms
Shoes are the most popular item sold by Toms, but the socially minded company doesn't stop with footwear. This holiday season, it's Toms sunglasses that you should really be buying: For every pair purchased, the company donates prescription glasses (or helps with visual medical care or surgery) to a visually impaired person in the developing world.
Stylish Bags that Build Economies
Hobo Bags from Della are handmade near Lake Volta in Hohoe,Ghana. The company aims to teach women marketable skills, like sewing, so they can make a living wage.