10 Must Haves for a Guest Room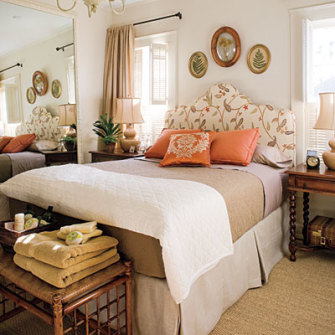 If your home has an extra bedroom, chances are it serves multiple purposes.  Perhaps it's a playroom for your kids, or maybe a home office for you.  Whatever it's primary function, it is likely used for guests from time to time as well.  The holiday season, for instance, is one time of year when you may host out-of-towners more often.  Don't add to your stress level during this busy time of year by trying to make your spare bedroom guest-ready at the last minute.  By outfitting this room with just a few creature comforts, you can have it ready for company in no time.
Fresh Linens
Since the bed in your spare bedroom is most likely seldom-used, there is no need to invest in lots of sheet sets.  Rather, select one nice set of sheets to keep on the bed and simply launder them right before your guests arrive.  No bed?  No problem.  Look for a used futon or purchase an air mattress for this room, and keep a spare set of sheets on hand for when the occasion arises.
Fresh Flowers
Although fresh flowers certainly are not necessary, they add such a nice touch in a spare bedroom.  A simple bud base with just a bloom or two goes a long way in making your guests feel welcome.
Luggage Rack
Make it easier for guests (particularly elderly guests or those who have trouble bending) to access the contents of their suitcase by offering a luggage rack. When not in use, a folding rack can easily be tucked away in a closet or even slid under a bed.
Bedside Table Lamp
Another way to inject some color and personality into your spare room is with a table lamp.  Choose one with a fun shade or lamp base that coordinates with the bedding or pillows in the room, and your guests will have a beautiful way to illuminate their bedside for reading or relaxing.
Extra Blanket or Throw
Fold a throw lengthwise and place it at the foot of a guest bed, giving your guests an extra layer of warmth or a way to cover up for a nap without messing up the whole bed.
Waste Basket
A waste basket isn't the first thing that comes to mind when you begin to think about outfitting a spare bedroom, but it is a nice touch for guests who won't want to leave their room in search of a place to throw away things like tissues or wrappers.
Mirror
A full-length mirror is a welcome addition to a spare bedroom.  If your home has a limited amount of bathrooms, guests will appreciate having a mirror to use for applying makeup or freshening up in the privacy of their own room.
Alarm Clock
While many people these days use their phones as alarm clocks when traveling, it is still nice to offer an alarm clock on a nightstand for those who need one, or simply for checking the time in the middle of the night.  In addition, you can add style and color to the guest room by choosing a clock with some personality.
Water Carafe
A water carafe like this one, or simply some bottled water and a glass or two, are convenient for guests on a nightstand or dresser.
Extra Touches
Here are a few extra touches that make a spare bedroom even more welcoming:
Basket of reading material like books and magazines
A small bowl or basket filled with travel-sized soaps, shampoo and other toiletries
A pad of paper and a pen with your home's wifi password written on the inside cover
A candle
A tray for carrying up breakfast items or snacks
-From AboutHome