Pick of the Patch- Pumpkin 101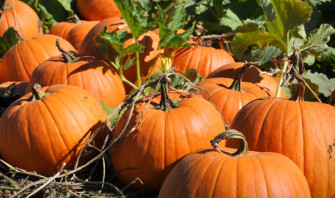 October conjures images of falling leaves, Halloween, pumpkin carving, jack-o-lanterns and, of course, pumpkin pie. However, not all pumpkins are alike. In fact, there are dozens of varieties, some of which are delightfully delicious and some that are best used for decoration.  Before you hit the patch, there are a few things you should consider. First, are you looking for a pumpkin to eat, carve or paint? Once you've established what you want to do with your squash, you can use these tips to pick up the best variety for your needs.
Edible Pumpkins
The truth is, all pumpkins are edible. It's just that the bigger carving varieties have lower sugar content, thin walls and stringy, sometimes watery flesh. Of course, the meat from large pumpkins can be pureed for soups, muffins and breads, but you never want to use a pumpkin for cooking after it's been carved and displayed for decoration.  For fresh pumpkin pie, smaller and sweeter pumpkin varieties are best. Choose pumpkins that are 3-6 pounds in weight, and have names like Sugar Pie, New England Pie or Baby Pam Pumpkin. Look for a pumpkin with 1-2 inches of stem. If it's green, even better—that means your pumpkin is super fresh. The shape of the pumpkin is unimportant, but it should be free of blemishes and soft spots.
Carving Pumpkins
Technically, any type of pumpkin, gourd or squash can be carved, but you want to select ones that are easy for you and your kids to handle. Whether you're picking them out at a farm or at the grocery store, make sure that your pumpkin is healthy and free of decay. If you're headed for the patch, lift the pumpkin off the ground and make sure the underside hasn't started to rot.  You'll want a mature pumpkin with consistent coloring, and one that gives off a hollow sound when you tap it. Make sure the outside is firm to the touch, and never carry your pumpkin by the stem. It can easily break off and leave your pumpkin open to rot. The Jack-O-Lantern variety is the most common for carving, but white Lumina pumpkins are a beautifully creepy choice for Halloween, too.
Pumpkins for Painting
You can essentially paint any kind of pumpkin, but you'll want to start with a bump-free canvas. Since pumpkins often have ribbing, smooth-skin varieties like Orange Smoothie, Cotton Candy and Lumina are your best bets.  If you want to eat the pumpkins after the kids have decorated them, be sure to use non-toxic paint. Otherwise, acrylic, latex and puff paint will all stick to your squash. Use black spray paint for a spooky base, or try a gold metallic spray paint for an elegant spin on your holiday decor.
Pumpkin Varieties
Red Kuri Pumpkin
Red Kuri pumpkins have a teardrop shape and smooth flesh. With their nutty flavor, they're great for making pies, muffins, breads and more. This variety is primarily grown in California, Florida and Southwestern Colorado.
Jack-O-Lantern Pumpkin
The Jack-O-Lantern pumpkin is the ultimate carving pumpkin, and likely the variety you're picking up at your local patch or grocery store. Their thin walls make them easy to cut and allow candlelight to shine through once you've finished your Halloween designs.
Long Pie Pumpkin
The Long Pie pumpkin is an heirloom variety with a long shape unlike traditional carving pumpkins. The fruits weigh an average of 5 to 8 pounds, and are best used for pies, since their meat is fleshy and not stringy. This variety is also known as the Nantucket Pie.

Sugar Pie Pumpkin
It's no surprise that Sugar Pies are great for baking fresh pies. This variety offers sweet, fine-grain flesh and thin skin, as opposed to the thick rind of a carving pumpkin. Of course, you also can use this tasty variety in soups, casseroles and more.

Cinderella Pumpkin
Cinderella pumpkins are another heirloom variety hailing from France, where they call them Rouge vif d'Etampes. The nickname was appropriately inspired by the carriage that Cinderella's fairy godmother turned into a pumpkin. Not only are they great for decoration, but they also make delicious pies.